Growth in packaging fuels Heidelberg results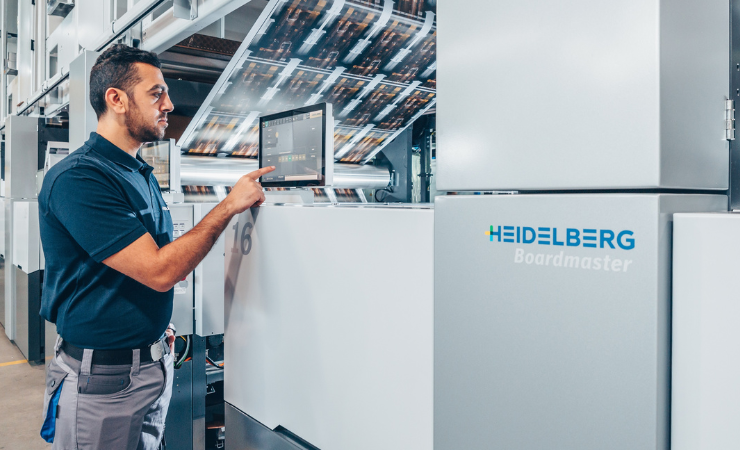 Heidelberg says its Boardmaster flexo press allows job changes at full production speed, with minimal waste and zero downtime
Heidelberg has cited growth in the packaging and label sector alongside successful launches of its Boardmaster flexo press and Gallus One digital label press as key factors in its latest quarterly and half year results, which it says have put it 'well on track' to meet its targets.
The company said Q2 of its financial year 2023/2024 had been 'solid', and that its H1 sales figures (1 April to 30 September) – adjusted for exchange rate movements – almost matched those of the same period in the previous year, at €1.092 billion. Likewise, incoming orders for the six months were almost at the level of the previous year: €1.184 billion, compared to €1.229 billion. These figures gave Heidelberg an improved operating result (EBITDA) of €101 million (2022/2023: €92 million), and corresponding adjusted EBITDA margin of 9.2% (2022/2023: 8.2%).
A major factor in these results is an increase in incoming orders for Heidelberg's Packaging Solutions segment of around 16% in the first half of its financial year. Within this context, Heidelberg described the launch of Gallus One and the Boardmaster presses as 'a big success'.
'Given the stable growth of packaging printing, we are continuously further expanding our portfolio in this sector,' said Dr Ludwin Monz, Heidelberg CEO.
The longer-term view for the business remains as it published in June 2023, 'assuming the global economy does not see weaker growth than predicted by economic research institutions'. These forecasts envisage sales and an adjusted EBITDA margin that match the previous financial year's numbers, which were €2.435 billion and 7.2% respectively.