BoxWay aims for elevated corrugated offering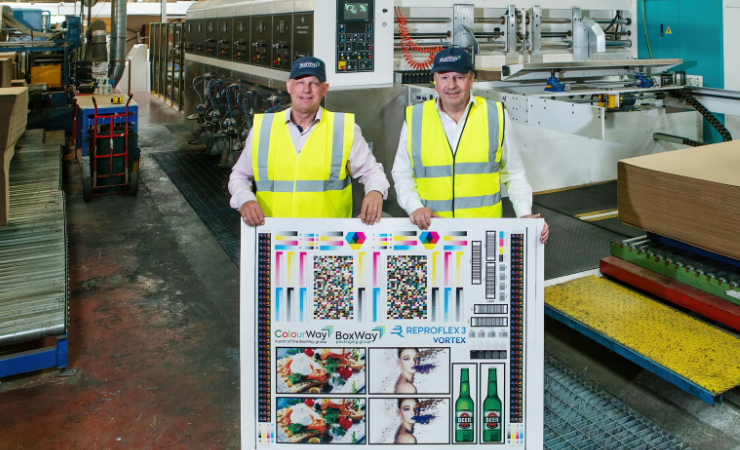 Mark Vaus (left) of Reproflex3 with BoxWay's Andrew Woollard in front of the new Weipong press
UK flexo and digital print packaging group BoxWay is partnering with repro supplier Reproflex3 to support a 'transformation into a premier player' in the corrugated packaging sector.
The partnership will include the adoption of Reproflex3's Vortex corrugated screening technology, as well as training and development support for BoxWay's sales team and production staff. It follows investment by BoxWay in a new Weipong five-colour rotary die cut flexo press at its Peterlee plant. BoxWay intends to extend its offering from standard one or two-colour print to take on more complex five-colour jobs on coated papers, which it says will help meet the evolving requirements of its SME and blue-chip customers.
The Vortex screening will be particularly helpful to BoxWay because it will allow the company to maintain the high volume fixed anilox rolls that it uses to accommodate a varied mix of work, while also being able to achieve fine halftone reproduction, with plate screens 30% higher than before. BoxWay has historically been prevented from targeting higher quality, more sophisticated coated print work due to its use of fixed anilox rolls. Reproflex3 says Vortex enhances print quality, reduces dot gain and optimises ink coverage.
'It was crucial to select a partner that is innovative, forward thinking and can deliver the value-added technical support the business requires,' said Andrew Woollard, CEO of BoxWay Packaging Group. 'With the application of Vortex and the training provided, we are confident that we can elevate our business and provide our clients with even more exceptional packaging solutions.'
Mark Vaus, technical sales director for corrugated at Reproflex3, said Vortex was a unique technology that would deliver a raft of benefits for printers, including in cost efficiency and sustainability. 'The prepress offering to the corrugated industry has stagnated in the last decade, which is never a good thing,' he added. 'We have seen repro companies fall by the wayside through lack of investment and the inability to offer something different to a standard LAMS digital plate.'