Bobst launches updated Connect package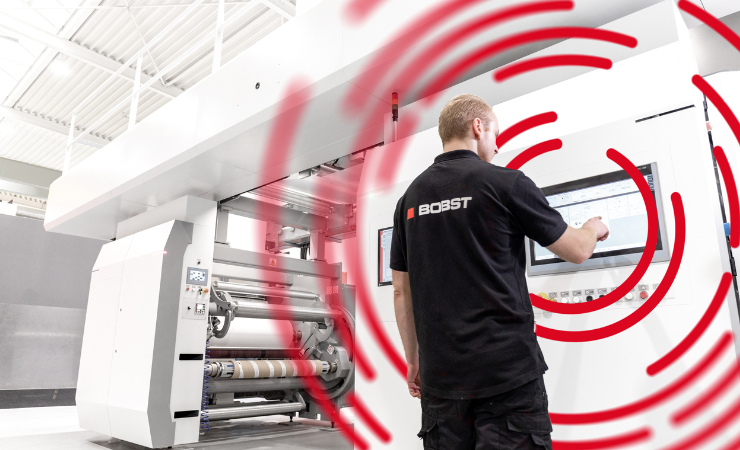 The updated package, BOBST Connect Essential, is available from 1 July 2022
Bobst has launched a new version of Connect, first announced at its recent open house event in Lausanne, Switzerland. A user-centric platform intended to connect converters and brand owners to a digitalised workflow, Connect aims to give users more control over the production process.
The updated package, Bobst Connect Essential, is available from 1 July 2022 and aims to help customers take advantage of the wealth of data produced by their machines by improving efficiency, control, and data knowledge.
Bobst Connect links directly to customers' existing systems and integrates with third party cloud-based applications across the value chain. In terms of security, it is hosted in a fully secure ISO 27001-certified environment.
The updated platform offers performance data, meaning users can see a quick view of machine status and health. It can inform users how different aspects of the equipment are impacting production and help to identify and eliminate losses. It also comes with progress indicators so users can see the difference between estimated and actual finishing times for each job.
Bobst Connect enables remote connection to customer's machines for quicker trouble shooting as it is estimated that around 80% of electrical issues can be solved directly online. As a result, technical support can quickly diagnose problems based on historical and real-time data.
Chief technology officer Leonard Badet said, 'In today's packaging environment, data has become king, and can provide a significant competitive advantage.
'Bobst Connect helps customers to take advantage of the wealth of data produced by their machines, providing the insights that can unlock advances in efficiency, quality, and productivity.'
Head of business unit services Raphael Indermühle added, ''Bobst Connect is an integral part of the Bobst vision to shape the future of the packaging world based on four cornerstones – connectivity, digitalisation, automation and sustainability.'