Bobst Connects with sector at open day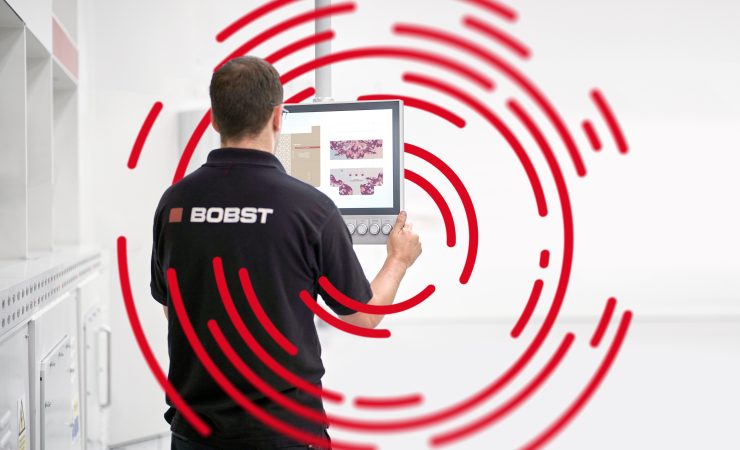 Bobst's new Connect solution took centre stage
Bobst's updated Connect solution took centre stage as the company threw open the doors of its Swiss headquarters on 8 June.
Other key developments and innovations centered around the company's four key pillars' – connectivity, digitalisation, automation and sustainability. This included the firm's new logistics hub for the EMEA region, its successful apprenticeships programme and its plans for sectors including flexible packaging, folding cartons, corrugated board and labels. 
Connect, which Bobst is describing as 'revolutionary', is an updated software offering which will be going live in July. It has been developed to allow consumers to manage their workflows, automate their processes and generate more productivity from their existing assets. 
To begin with it will provide two main functionalities, equipment monitoring and performance management, though several more will be added over the coming months. From July Connect will be available with all Bobst equipment. 
CEO Jean Pascal Bobst, who spoke at the open day, confirmed that Bobst's turnover in 2021 was over 1.5 billion Swiss Francs (a figure that equates to $1.5 billion, €1.4 billion or £1.2 billion) before telling the assembled visitors, 'While it was impossible to predict world events of recent years, like the pandemic, global conflicts and the subsequent consequences for our industry such as shortages of materials and manpower, we did correctly identify the overall packaging trends. While these trends have undoubtedly been accelerated, Bobst has implemented a strategy and built a portfolio of solutions and services that enable converted and brand owners to thrive even in this new world.'
Mr Bobst concluded by outlining Bobst's ambition to hold either the number one or number two market position for each segment that it operates in.
Other highlights of the open day included a tour of the premises and demonstrations of a range of Bobst activities including 3D printing (which the company is using to print spare parts for its machines), the automation of many factory activities and a talk from people involved in the apprentices programme. This programme, which is based onsite and involves around 200 young people at a time, lasts for up to four years with 30-40% of apprentices staying with Bobst after 'graduating'. 
Finally, Bobst also confirmed that it will be opening a new logistics hub for the EMEA region in Genk, Belgium. Joining existing American and Pacific hubs, the new centre will stock more than 100,000 parts for all Bobst product lines, is intended to improve the company's service levels.