Partners and printers promote CrystalCleanConnect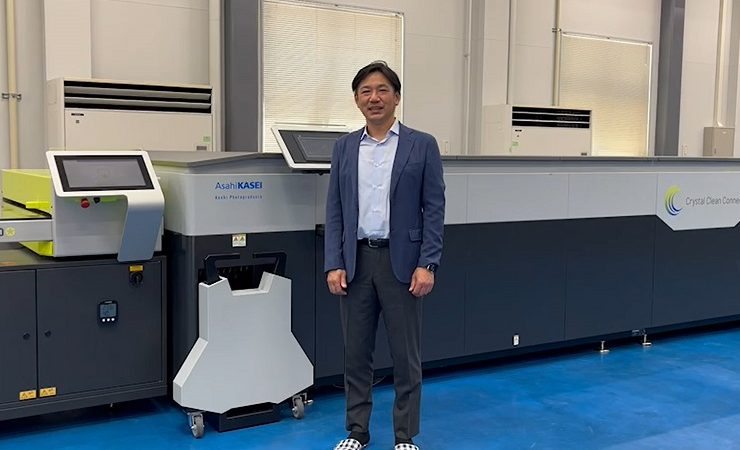 Yasuo Naka, flexo division manager at Nabe Process, with the world's first CrystalClearConnect
Asahi Photoproducts will be using this year's EskoWorld event to illustrate just how converters can benefit from the use of fully automated flexo platemaking.
This will see a special focus placed on CrystalCleanConnect, a first-in-the-world breakthrough option that reduces flexographic platemaking from 12 steps to one, delivering high-quality press-ready plates in a little over an hour, and reducing operator handling time by 90%. In addition, no VOC-based washout solvents are used.
Created through a partnership between Esko, Kongsberg and Asahi Photoproducts, CrystalCleanConnect represents, 'a migration to Industry 4.0 and positions flexography even more favourably against offset and gravure,' according to the partners involved in the system's creation. CrystalCleanConnect also represents the first time that plate cutting has been completely integrated into the platemaking process.
With three units already installed in the field, Japan's Nabe Process and Shanghai Hengze Printing Company of China have openly stated their success with and appreciation of fully automated flexo platemaking. In the case of Nabe Process, this has gone hand-in-hand with the use of Asahi's AWP CleanPrint water-washable flexo plates.
Yasuo Naka, flexo division manager at Nabe Process, explained, 'CrystalCleanConnect has added to our overall quality and productivity, getting plates to press much faster, with less operator engagement time and with less opportunity for error. Based on these results, we are converting all of our flexographic plates to Asahi AWP water-washable CleanPrint plates and producing them using CrystalCleanConnect. We know our customers will be more delighted than ever with the quality and turnaround they receive from us.'
Shanghai Hengze has also been using AWP CleanPrint water-washable plates, and company founder Li Xiaocheng said, 'Since we implemented the Asahi AWP CleanPrint water-washable plates two years ago, we have seen excellent quality improvement results. When we learned about the added value CrystalCleanConnect could bring to our operation, we could hardly wait to get started. We are also very pleased to be an early adopter of this unique, highly productive and innovative solution.'
At EskoWorld 2022, taking place 7-9 June at the Gaylord Texan Resort in Dallas, Texas, Dieter Niederstadt, Asahi Photoproducts technical marketing manager, will present a session, 'Automation in Platemaking with CrystalCleanConnect', during which he will explain how the AWP plate technology and the automated system work, why it is such a revolutionary option for flexo platemaking, and such customer experiences.