If the sleeve fits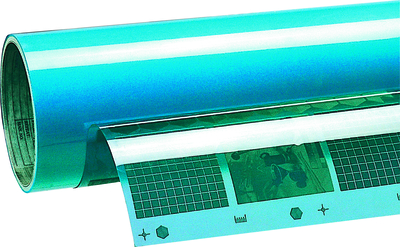 Polymount's Twinlock sleeve has a self-adhesive surface
The use of flexo, and therefore demand for sleeves, is still growing, mainly driven by printers switching from gravure. Nessan Cleary reports.
The use of sleeves for flexo printing has been standard for some time now. It is a simple enough concept – the sleeves are floated onto mandrels using compressed air, with the printing plates mounted to the sleeves, reducing the number of printing cylinders needed. This system is capable of good quality printing to a wide range of substrates. It is relatively economic, can cope with long print runs and lends itself to repeats.
Steve Buxton, a director at YRG Solutions, said, 'It is a fairly stable, mature market place, but there is some growth in flexo, such as the movement from gravure to flexo. That has been the main trend in a big way in the last two years.' 
It is a point echoed by Damian Leterrier, Axcyl sales and development manager at Trelleborg, who said that flexo is already a dominant technology in narrow web and is growing slowly on wider web applications. He added that you need a high skill level to get the best out of flexo, but that it can be extremely competitive.
Mr Leterrier said that although there is some room for improvement, we are unlikely to see big changes in the way that flexo sleeves work. He noted that most suppliers have broadened their range and now have an entry level and a high quality offering, adding, 'There are some people who are extremely price sensitive and others who value the reliability of the product.' He also said that some offset press vendors are struggling and are looking at the gravure and flexo markets, which is helping to grow the market for flexo sleeves. 'A sleeve is just a tool and I would say that they will continue to be required because one of the very strong aspects of flexo is the possibility to repeat on the same set up.'
Keeping it thin 
There is a continuing trend towards thin sleeves, as Ellen Brimble, managing director of Rossini in the UK, explained, 'People have found over the years that the best print quality is always if you don't go over 20 mm wall thickness on a sleeve and work with more adaptors.' She added, 'The technology is there and most people work with high modular carriers because they have vibration dampening properties so you're not restricted in the medium speed range.' However, she also acknowledged that this is less of a problem in the UK market where run lengths are coming down.
Rossini's bestseller now is the StarCoat range. Ellen Brimble acknowledges that it is an expensive sleeve but said that it lasts longer than other sleeves and offers good print quality. She went on to say that customers do value quality over price. It has been designed for longer runs and is said to be resistant to solvents and moisture. It has a dual construction with a conductive surface on top of a fibreglass reinforced layer giving it good dimensional stability suitable for process printing. It can print multiple images in perfect register, with screens up to 60 l/cm so that it can reproduce subtle highlights and vignettes. 
Rossini has also developed the ESA Red sleeve, an Electrostatic Assist System for rotogravure printing. Rossini said that the use of red rubber reduces the ionisation effect that can occur with the more normal black rubber compounds, since carbon black is a conductive element. It is certified as non-flammable.
Wide range
German company Polywest has specialised in producing flexo sleeves and adaptors for over 25 years. There is quite a range including the Onyx line that has been designed for solvent-based inks, but will also work with water-based and UV inks, and the Rubin range specifically intended for use with water-based and UV inks. They can be mounted onto air-support cylinders and are electrostatically conductive. There are three different surfaces: the standard Solid is a hard surface; Softcoat is relatively soft with limited resistance to solvents; while DigiBase is also soft, but with better resistance to solvents. There are also Onyx+ and Rubin+ versions for HD Flexo printing.
Polywest has also developed two in-the-round sleeves for laser engraving: Novotec for UV and water-based inks and Evotec for solvent inks. Other sleeves include Polybase for anilox rollers, and Rubber base, which has a rubber base on a fibreglass reinforced plastic and is mainly used for gravure pressure rollers.
Earlier this year Polywest introduced a new Carbon Fibre adaptor that allows hydraulic clamping and can cope with speeds up to 600 m/min.
It has also launched a hydraulic clamping adaptor developed in cooperation with Bobst specifically its F&K FP 16-S and 20SIX presses. The company can recondition old adaptors originally delivered with the machines as well as producing new adaptors for this application in print widths of 1050, 1250, 1350 and 1450 mm.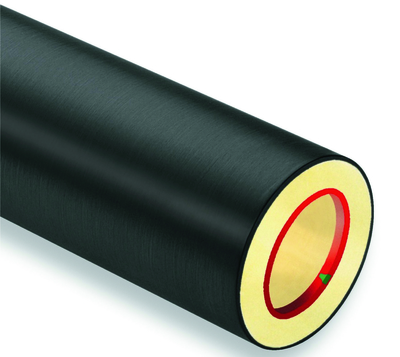 The StarCoat sleeve is Rossini's bestseller
The Axcyl brand of Coaxcyl products has been under the Trelleborg umbrella since 2008, having been previously owned by MacDermid. Mr Leterrier said that Trelleborg has invested heavily in the product range and the distribution which has led to significant growth. He said that these products are based on a honeycomb structure that allows the sleeves to be thin and lightweight.
The range includes composite sleeves, such as the BS bridge sleeve, a totally sealed sleeve that is compatible with sleeve cleaning machines. It uses a damping mounting layer to filter out vibrations. There is a choice of four, six or eight air holes, and it comes with separated air supply and internal ventilation for top sleeve mounting. 
There is also a Coaxcyl EM sleeve for repeat build-up which has many of the same characteristics. It has a reinforced register slot for any sleeve thickness with an optional cutting guide. The Coaxcyl range also includes the TR thin sleeve mounting plate, which has a slot register reinforced with carbon/kevlar fabrics. It will take any type of plate thanks to a smooth finish.
Bridging the gap
The Flint Group sells the Rotec range of sleeves and adaptors. The sleeves use a mixture of synthetic resin and fibreglass to give good durability and stability. The standard Blue sleeve offers long lasting mounting and clamping capabilities, while the Compressible sleeve is said to be efficient with hard tapes and long print runs, while boasting low dot gain.
There is a Premium sleeve that can cope with high printing speeds and constant temperature fluctuations over longer runs, while the thin-walled fibreglass composite Hybrid sleeve has a very hard surface giving it a long service life.
The various adaptors are used to bridge diameter differences between air cylinders and sleeves. The standard Rotec Bridge Adaptor is for wall thicknesses of less than 10 mm and has a number of holes to pass air from the cylinder up through the surface. There is a Unifit Adaptor that can handle most types of air cylinder regardless of the air hole pattern, and an Airo adaptor that has a separate compressed air connection and its own dedicated air conduction system.
The Rotec range also includes the Atlas adaptor, which has a carbon fibre base with a hard polyurethane surface that helps dampen vibration for longer life and allows the surface to be reworked. There is a fibreglass Base sleeve said to be both stable and lightweight, with a rough surface offering good bonding characteristics for coating material. 
Polymount, distributed here in the UK by Graway, has developed a self-adhesive sleeve, known as Twinlock, which can mount printing plates without taping, thereby saving time. Polymount said that the adhesive is strong enough to grip the sleeve throughout a print run. The adhesive will last for the life of the sleeve, and can be maintained just by cleaning the surface so that it does not dry out.
Also in anilox
Harper Corporation makes a number of anilox sleeves that use resin-saturated non-woven materials rather than urethanes for building repeats that give greater dimensional stability and are compatible with common flexo inks and solvents. There is a thin wall sleeve, with a 0.005 ins scribe line and an intermediate plate sleeve, with scribe lines up to 0.030 ins. Both have a maximum width of 2159 mm and require a minimum of 85 psi sustained air pressure.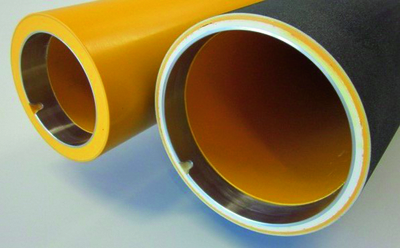 Brdige and plate sleeves from Apex
There is also a range of bridge sleeves that have a Flow-Thru feature, whereby secondary air can permeate the system to make it easier to mount plate sleeves. They can be adapted to work with either steel or carbon fibre mandrels. 
Last year Harper started using synthetic rubber to seal the expansion foam layer of its anilox sleeves, instead of aluminium end rings, to prevent deterioration. This extends the life of the sleeve, since it can cope with more reconditions. The mandrel can also be sealed more easily, preventing ink from leaking in.  
Meanwhile, Inometa, which had previously produced the Harper sleeves in Europe, has now given up its German manufacturing plant in order to concentrate its sleeve production in Wisconsin, USA, though it still markets its products in Europe from its German HQ. Inometa produces the Inoflex range of sleeves, which includes anilox sleeves suitable for wide web presses and capable of running up to 800 m/min. 
There is a range of mounting sleeves, with a choice of hard glass, compressible, carbon or polyurethane surfaces. The sleeves are said to be resistant to cleaning solutions but receptive to adhesives for mounting tapes. Inometa claims dimensional stability and a concentric accuracy with deviations of less than 20 microns.
There is also an in-the-round option that can be ordered as a blank or with a print image. It is a thin sleeve with a wall thickness of 1.573 mm. There are different versions, such as for label printing, and a CS cushion adaptor with different levels of compressibility depending on application.
Apex Group of Companies produces the UltraQuick range of anilox sleeves for which it claims high accuracy in total indicated runout (TIR), which measures the dimensional tolerance of the sleeve. This is down to the use of aluminium rings in its construction, which prevents the sleeve from being compressed as it runs. There are stainless steel protection end rings with ceramic embedding to protect the sides, available as an option.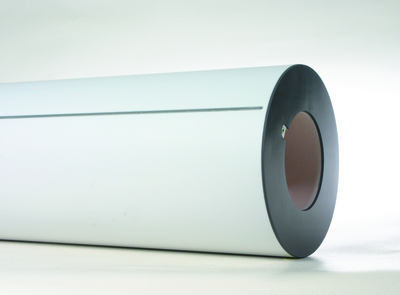 EM repeat build-up sleeve from Trelleborg
Apex also makes bridge and plate sleeves, for which it claims a high concentric accuracy, with deviations of less than 20 microns. There is a choice of hard or soft coated surface for the mounting sleeves. The range also includes both hard and soft coated bridge sleeves.
In the round
Digital In-The-Round (ITR) imaging is also gaining some traction in the flexo marketplace. The idea is relatively simple – writing an image directly to a digital photopolymer plate on a round sleeve – though it requires a specialised platesetter and processor to image the plates. But the advantage is simplified, and therefore faster, press set up time coupled with lower costs as well as better registration, lower dot gain and greater image consistency. 
However, Mr Leterrier said, 'In-the-round sleeves are likely to remain niche because it is expensive for printers to invest in and the sleeves are harder to replace quickly if there is a problem on press. It is also harder to store a large number of in-the-round sleeves.' However, he acknowledges that they are useful for longer runs, where everything stays within register and they can save on downtime. 
Ms Brimble said that ITR plates have improved. 'There used to be a problem that the sleeves twisted within themselves but that has been overcome. However, people are starting to move away from in-the-round because of unexpected costs. They seem to distort very easily and so you have the cost of buying new sleeves.' She added, 'All of our customers are going towards high quality plate mounted sleeves that have high wall protection and are dimensionally very stable.'
Rossini sells an ITR Thermo-Polymer sleeve, which has a maximum sleeve length of 4500 mm and maximum repeat printing of 1600 mm. There is a Standard version that is best for line work, flood coats and heavy solids, and is essentially a thermopolymer layer on a fibreglass base. There is also a Max/Flex version, which has a compressible layer that is suitable for running at faster speeds with less vibration and is recommended for more precise jobs.
Going round
DuPont produces the Cyrel Round range, which includes both Classic and Thin sleeves, said to offer high resolution for both line and halftone printing. They use a LAMS mask that is imaged through laser ablation and should be handled in low UV light. 
The Classic is suitable for lightweight materials, such as tissue and gift wrapping paper as well as folding boxes and flexible packaging. It will work with both solvent and water-based inks, as well as UV curable inks. The Cyrel Round Thin sleeves have a compressible adaptor giving a good balance between low dot gain and solid coverage. They are suitable for labels, aluminium and shrink foils, and for boxes and flexible packaging.
DuPont also sells the associated imaging and processing equipment, including the CDI imagesetter. There is a cantilever sleeve option so that a single operator can change the sleeves over without needing any further tools. There is a separate exposure unit and a combined processor and dryer that also takes care of the final UV exposure to fix the image on the sleeves.
The Flint Group sells its own nyloflex range of ITR products, which also includes a platesetter capable of exposing up to two ITR sleeves in parallel. It can handle sleeves from 300 to 1800 mm in width, and up to 1037 mm repeat. It can be used inline with the nyloflex ITR processor.
The nyloflex ITR sleeves come in both thin and classic flavours, and it is possible to order intermediate thicknesses on request. The sleeves use a LAMS (Laser Ablative Mask System) layer and are suitable for line, solid and halftone printing. They are said to have low dot gain and to be suitable for all print substrates, with the Thin sleeves having a tonal range of 1-98% at 150 lpi, while the Classic sleeves offer a tonal range of 1-98% at 110 lpi.
In conclusion, there is a good range of sleeves and adaptors available, with many options from entry level to higher quality, with future developments likely to be incremental rather than disruptive. The flexo market itself is well developed, and likely to expand further as vendors target growth at the expense of gravure printing. This move is itself driven partly by falling run lengths, but is also through printers seeking to gain a competitive edge by exploiting the image quality made possible by the better quality sleeves.