Comexi, Asahi and partners to focus on 'effortless platemaking'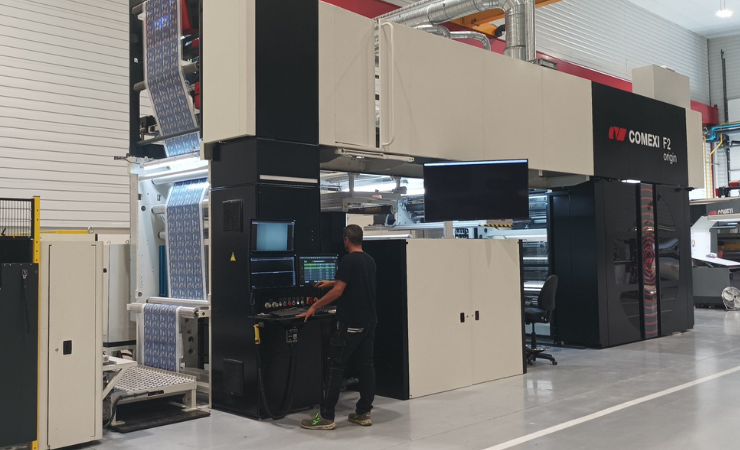 Comexi's F2 Origin flexo press will be printing with water-washable plates at the Girona event
Real-time water-washable plate creation and extended colour gamut (ECG) printing are among the processes that Comexi and Asahi Photoproducts say will be demonstrated for visitors to a one-day flexible packaging event in Spain next month.
The event – titled 'Effortless Plate Making: Accelerating Printing Production In-House in the World of Flexible Packaging' – is to take place at Comexi's CTec customer conference centre in Girona on Wednesday 8 November, and will include partners such as Esko, Hamillroad, tesa, hubergroup, FGS Flexographic Solutions and Oxea Chemicals.
Dieter Niederstadt, Asahi's technical marketing manager, said the event would show 'how easy it can be to make plates directly next to the printing press'. Visitors will see plates created for two different jobs using Asahi AWP water-washable plates, with live printing on a Comexi F2 Origin flexo press (receiving its world launch at the event) that will be configured with hubergroup's propyl-based solvent inks in 7-colour ECG configuration. Running the two jobs back-to-back will help demonstrate the 'ease of changing jobs with one printing sleeve change', the companies said.
The propyl-based inks have a faster drying speed than ethyl-based inks, and work well with 'ultra-fine printable dots', such as those delivered by Hamillroad's Bellissima screening, supported by the repro house FGS. Tesa's Twinlock self-adhesive sleeves will be used, saving tape material.
'During this event, we will explain every step of the process so visitors can see how fast, easy and sustainable it is to produce flexo plates in-house while receiving repro data via the internet from repro house partners who can deliver file preparation for the highest possible quality outcome,' Mr Niederstadt continued. 'We are looking forward to welcoming our guests at this important industry event.'