Hamillroad and Asahi partner to push environmentally friendly flexo printing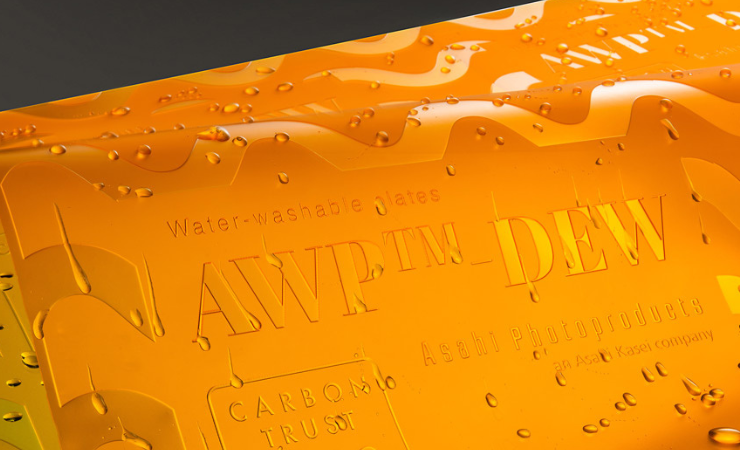 Asahi Photoproductsm AWP-DEW CleanPrint water-wash flexo printing plates
International pre-press company Hamillroad Software and Asahi Photoproducts have entered into a strategic partnership, to meet global demand for a more environmentally friendly water-wash platemaking process and 'best-in-class' image reproduction.
The companies noted that brand owners are looking to reduce their carbon footprint and are taking a closer look at production practices including the reduction of harmful solvents and greenhouse gases. To further this, Asahi's AWP CleanPrint water-wash flexo plates are now certified to use with Bellissima DMS.  
The combination of Asahi's move to a 'Solvent Zero' strategy and Bellissima's ability to enable fixed palette CMYK and ECG printing, 'offers the flexo market a strategic opportunity to drive down the consumption of harmful solvents and greenhouse gasses whilst driving efficiencies by accelerating the production process,' it is stated.
Specific sustainability benefits can be achieved through the elimination of press wash ups when switching to a standardised ink set and replacing the use of solvent with water in the platemaking process.
Hamillroad CEO Andy Cave said, 'We were thrilled to discover how closely aligned our strategies for the future of flexo were when we first engaged, and we're excited to see how our partnership can support the industry in the move towards a more sustainable manufacturing process with fixed palette CMYK and ECG printing.'
Jane Petrucci, Hamillroad's head of marketing said, 'The first step in our partnership was to evaluate the Asahi AWP CleanPrint water-wash plate for narrow web use with Bellissima DMS and we are thrilled with the results.
'Hamillroad's stringent and thorough plate qualification process demonstrated the Asahi plate to be of the highest quality, and in complete synergy with our aim to provide innovative flexo solutions to reduce waste and environmental impact. We anticipate significant interest from brand owners, trade shops, printers and converters looking to align their packaging production processes with greener, more efficient and lean manufacturing practises.'
For Asahi, this partnership is the latest step in its efforts to create a more sustainable flexo printing industry. This was detailed to FlexoTech at last year's Labelexpo Americas, where 'accountable sustainability' was being promoted alongside the certification of AWP-DEW CleanPrint water-wash printing plates as carbon neutral by the Carbon Trust.
The partnership will be formally presented at Labelexpo Europe 2023, where both Hamillroad and Asahi Photoproducts are exhibiting. Be sure to read your September 2023 issue of FlexoTech for a comprehensive rundown of flexo development to see at the show, or pick up a copy from the Whitmar Publications stand in Hall 8.