Asahi sets sight on 'accountable sustainability'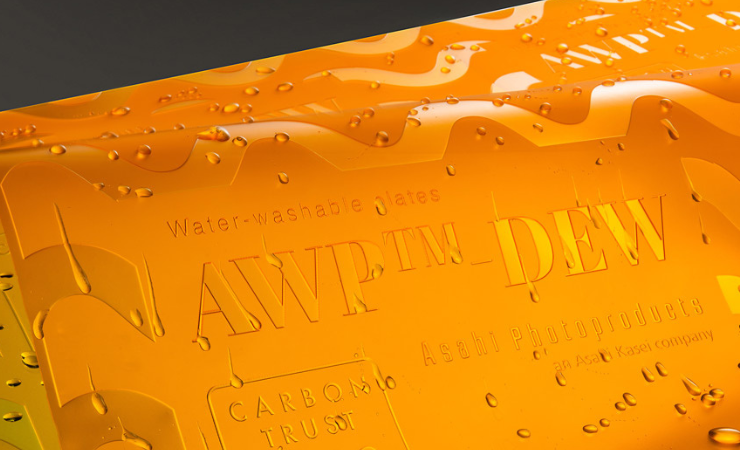 Asahi Photoproducts has had its AWP-DEW CleanPrint water-wash printing plates certified as carbon neutral by the Carbon Trust
Asahi Photoproducts has had its AWP-DEW CleanPrint water-wash printing plates certified as carbon neutral by the Carbon Trust, furthering the work of it and parent organisation Asahi Kasei to improve the environmental performance of the flexo printing industry.
This has seen the Carbon Trust certify the neutrality of the total carbon footprint of AWP-DEW plates. This means that Asahi Photoproducts can now display the Carbon Trust's 'Carbon Neutral Label'. This clearly states that the carbon footprint of the product has been certified neutral.
This certificate, displayed on the company's booth during Labelexpo Americas 2022, was awarded on 8 September, 2022 with validity for 12 months. However, rather than resting on its laurels, Dieter Niederstadt, technical marketing manager at Asahi Photoproducts, explained to FlexoTech how this is just one element of the overall company's progress towards a greener, more sustainable future.
'Sustainability is a key focus for Asahi Kasei,' he commented. 'By working with the Carbon Trust, this enables us to directly pursue "accountable sustainability". It is one thing to claim that your solutions are green, but it's another to be able to back that up through accountable data. Certification by a prestigious organisation such as the Carbon Trust enables us to do exactly that.'
To achieve carbon neutrality, offsetting and carbon credits have been used, although Mr Niederstadt is at pains to note that this is only one part of a much larger effort to orientate the entire Asahi organisation towards a more sustainable future.
'This is a first step and taking the first step is important. As a business, and as an industry overall, we have got to evaluate what we are doing so that we are not just paying lip service to the need for environmentally minded practices, but action them and deliver them in a way that is accountable and sustainable in practice.
'Achieving the 'Carbon Neutral Label' is where we are now, but this will evolve in the future and when we come to recertify, it will not be the same situation as today. Whether that's down to us innovating our products and reducing their environmental footprint, or our processes and business activities being reinvented and refined; tomorrow's world must and will be different to today.'
Examples of this include a new water recycling unit for larger Asahi plate processing systems. This features a filtration system that recycles up to 75% of the water used in plate processing, with only the remaining 25% to be disposed of in the form of a slurry or sludge. Further, 40% of the additive used in the water wash remains in the filtered water, reducing the amount of additive required for processing subsequent plates.
In Japan, Asahi Kasei is working on a biogas purification system at a sewage treatment plant in Kurashiki, Okayama as a demonstration trial of carbon dioxide separation/recovery. This trial is central to a partnership agreement between the Mizushima Works of Asahi Kasei's production centre and Kurashiki City for the 'realisation of carbon neutrality in society'.
Read the November 2022 issue of FlexoTech for more from Asahi, on both its direct activities and the future of flexo, as evidenced at Labelexpo America 2022; register here to receive the magazine