Vetaphone launches updated VE1A corona treater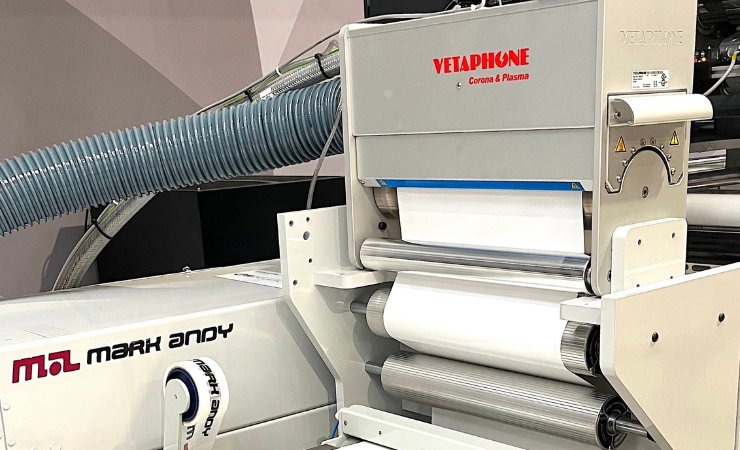 The M-model introduces new features that boost productivity and increase flexibility.  
Vetaphone has introduced VE1A-M, an update to its VE1A corona station designed to cope with a growing range of more complex substrates and the requirements of new print and finishing technologies.
VE1A-M has a modular design to allow for easy upgrading, but still has the same compact footprint as its predecessor with identical mounting holes. It is fully CE and UL approved. VE1A-M is available with two, four, six and eight high-power ceramic electrodes in treatment widths of 292-872mm and running speed of up to 300m/min. It is fitted with an embedded rotation sensor, turning roller with low energy requirement, and an HP connector isolated from dust and ozone for longer life.
In announcing the new update to its corona treatment offer, Vetaphone stated, 'The VE1A-M corona station brings all the benefits you would expect from a company dedicated to supplying high-tech options to the market. As new and more complex substrates are introduced, and print and finishing processes make greater demands on the quality of the web, the VE1A-M brings a raft of new features that boost productivity and increased flexibility.'
Mark Andy has installed a VE1A-M model on a hybrid line in its European showroom facility in Warsaw, Poland. Demo room manager Lukasz Kaczynski commented, 'The M station is one of three Vetaphone corona treaters fitted to our Digital Series HD press. Because of the intricate work we are doing with quite complex substrates on this press we needed the extra power that it offers. We also like the easier top access for cleaning and maintenance, and the improved ergonomics for sliding the cartridge in and out. I'd say the upgrades are well worthwhile and it's just as reliable and simple to run as the previous Vetaphone treaters we have.'