ABG open house underlines drive for connectivity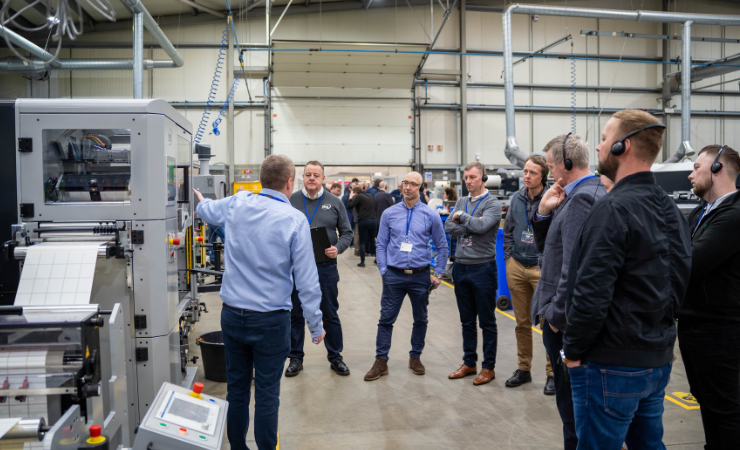 ABG's two-day open house showcased its facilities, technologies and partners
Finishing equipment manufacturer, A B Graphic (ABG) has hailed the success of its recent two-day open house event in Yorkshire, UK, at which it showcased its finishing technology and facilitated presentations from a range of partners.
Held at both ABG's headquarters in Bridlington, and at its new manufacturing facility in nearby Kelleythorpe, the open house underlined the company's 'drive for increased workflow automation and connectivity', in particular through its ABG Connect workflow connectivity solution.
Partners in attendance included CERM, Mercian Labels, Maan Engineering and Actega, which showcased its EcoLeaf embellishment technology. ABG showed its latest turret rewinder, which is due to be launched at Labelexpo Europe in September, while laser cutting and non-stop winding technology were also displayed.
'In the commercial print arena, automation is paramount; however, in the labels and packaging space we are in the early days of the automation transformation,' said ABG sales director Matt Burton. 'ABG is ahead of the market in terms of having products available to facilitate this change, such as ABG Connect. We will continue to sell more and more products with ABG Connect included, bringing about greater efficiencies by reducing the number of machines, headcount and complexity.'
Visitor Jan-Dirk Mueller, production manager at Halbach, commented, 'My key takeaway is to see how automation could bring us forward, and to get a glimpse of how we could proceed with automation in our plant.'
Another attendee was Andy Hedley, site manager of Coveris Flexibles in Cramlington, who said he had been 'very interested in the Turret Vectras, especially the new model', due for launch in September.
Matt Burton concluded, 'The aim of the event was to reconnect post-pandemic and show off what ABG has been up to – our new products, new facilities, new partnerships, new innovation and to share our strategic vision – all developments that allow us to better serve our markets and customers around the world, today and tomorrow.'