Barthel Group seeks efficient roll handling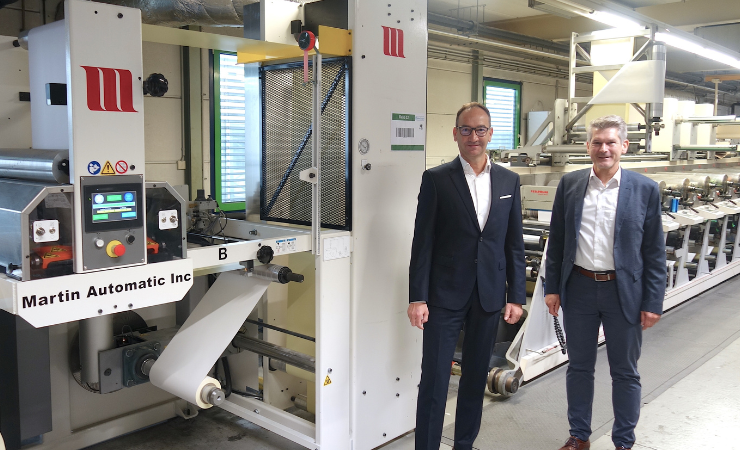 Mischa Barthel and Martin Automatic's Bernd Schopferer with the Martin Automatic MBS unwind splicer fitted to a Nilpeter FA5 flexo press
Germany-based label converter Barthel Group has invested in new unwinding/splicing and rewinding equipment from Martin Automatic, helping it to save time, material and physical effort involved in roll handling.
A Nilpeter FA5 flexo press at Barthel's Essen factory is now equipped with Martin's MBS non-stop unwind/splicer and LRD automatic transfer rewinder. The investment follows the addition of MBS systems to two Mark Andy Evolution 5 presses at Barthel company ATB's Herne plant last year.
Mischa Barthel, group managing director of €110m-turnover Barthel Group, explained the company's rationale behind the investment, saying, 'Non-stop operation of narrow web technology is the only way to maximise productivity – there is no future here for a label press without automatic roll handling.'
The MBS system features built-in roll loading for rolls up to 455kg, has a maximum splicing speed of 150m/min, a maximum web width of 560mm and can handle rolls up to 1016mm in diameter. The splicer monitors the remaining diameter of the roll and automatically splices to the new roll at a pre-set diameter. The LRD rewinder matches the capabilities of the MBS, and is fitted with two spindles and unloads finished rolls up to 800mm in diameter automatically onto an integrated ramp.
'As well as improving productivity and showing a fast ROI, the Martins have had a motivational effect on the production teams, who now deliver a higher volume of saleable product with less physical effort,' said Mr Barthel.
He added that the Group intends to diversify its operation, moving into new markets and new geographical regions, especially Eastern Europe. Mr Barthel concluded, 'I believe digitalisation and automation are the way forward and our future investments will reflect this – cost control and improved efficiency and speed to market are key. The challenge is to keep the success going by adapting to market conditions.'