CrystalCleanConnect available following successful year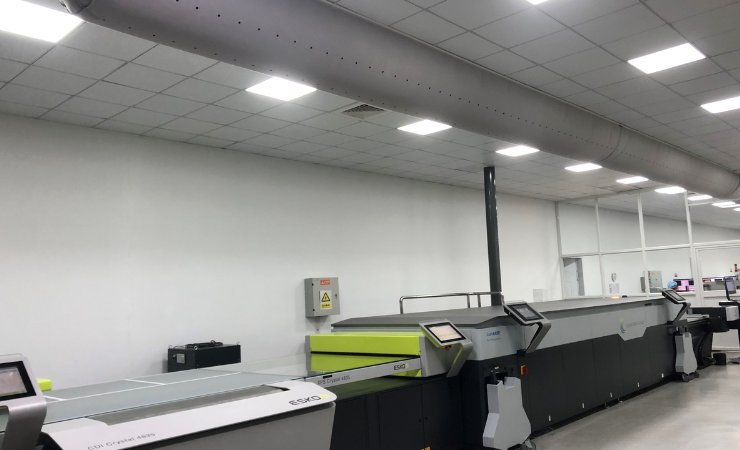 CrystralCleanConnect at Hengze
CrystalCleanConnect, a fully automated flexo platemaking line developed by Esko and Asahi Photoproducts, is now available following its drupa debut last year.
Esko, a developer of integrated software for the packaging and labels markets, collaborated with Asahi Photoproducts, a flexographic photopolymer plate development firm, on the new line.
Japanese printing company, Nabe Process Co, is the first business to integrate CrystalCleanConnect into its platemaking operation.
Pascal Thomas, director of flexo business at Esko, said, 'We have successfully installed the system at a number of key customers since we premiered this innovative technology at the 2021 virtual drupa event. CrystalCleanConnect fully automates the entire platemaking process, from imaging and exposure through to plate production, reducing the number of steps in the flexo platemaking process from 12 to just one. This equates to a reduction from 36 minutes per plate in platemaking and plate cutting to just 2.5 minutes of operator time to complete all processing steps.
'With the removal of so many process steps, there's an immediate 90% reduction in required operator time, which not only eliminates the potential for human error but also delivers immediate efficiency gains.'
Mr Nabesaka, chief executive officer of Nabe Process Co, added, 'CrystalCleanConnect has added to our overall quality and productivity, getting plates to press much faster, with less operator engagement time and with less opportunity for error.'
Mr Nabesaka said the new line was used to successfully test Asahi's AWP CleanPrint water-washable flexographic plates against conventional solvent-based plates, to measure differences in quality and productivity between the two.
He added, 'Based on these results, we are converting all of our flexographic plates to Asahi AWP water-washable CleanPrint plates, and we know our customers will be even more delighted than ever with the quality they receive from us.'
Label manufacturer Shanghai Hengze Printing Company is also in the process of installing a new CrystalCleanConnect flexographic platemaking line.
Mr Li Xiaocheng, founder of Hengze, said, 'When we learned about the added value CrystalCleanConnect could bring to our operation, we could hardly wait to get started.'