ProPrint gives Ocado apples a fresh look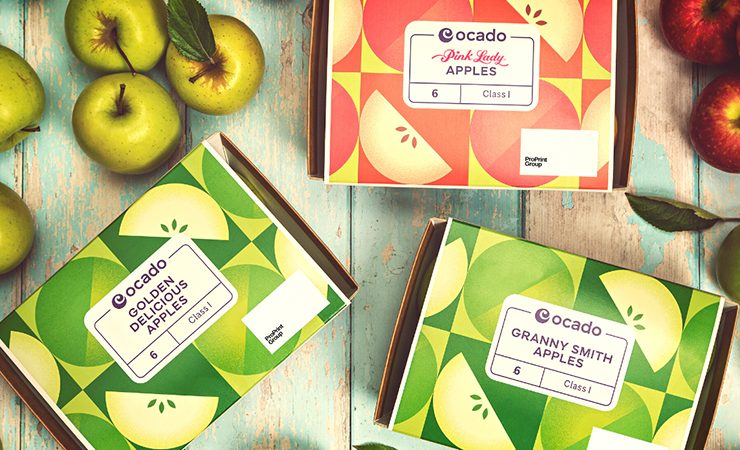 Ocado customers are now receiving three varieties of apples packaged in the new Pro-Produce linerless pack format from ProPrint
A cross-industry collaboration between retailer Ocado, fruit producers OrchardWorld and Peake Fruit, linerless expert Ravenwood Packaging, and ProPrint Group, has seen new packaging introduced for apples using a linerless format that reduces their environmental impact.
Ocado customers are now receiving three varieties of apples packaged in the new Pro-Produce linerless pack format from ProPrint. This has eliminated the use of bubble wrap and a label to package the apples. Rather, Pro-Produce combines a food grade board printed 'lid', which is applied to a nested cartonboard tray using a Ravenwood linerless applicator. The cardboard is pre-printed on an Edale FL3 flexo press with Martin Automatic rewind unit, before being converted using a Ravenwood Com500 Coater machine.
The bubble wrap used previously to package Ocado apples had the key function to protect the fruit to avoid food waste, whilst it was also important to maintain the quality of the product through more demanding online retail channels. Successful trials showed that the Pro-Produce pack supports and protects apples through their journey. OrchardWorld trialled several cartonboard packaging alternatives, however, the linerless print and technology fundamental to Pro-Produce meant the packing speed has now doubled, so delivering production efficiency as well as improved recyclability. The new pack will eliminate almost 12 tonnes of hard to recycle plastic annually, as well as preventing unnecessary waste to landfill. Customers recognise the pack as recyclable, and can easily dispose of both components together using kerbside recycling.
Pro-Produce has also given the apple packaging a premium look and branding potential for Ocado, as delivered using the flexo printed 'lid'.
Michael Jobbins, technical manager at OrchardWorld, commented, 'The Pro-Produce pack has enabled us to accomplish the two key design criteria we set ourselves when seeking to remove the hard to recycle plastic bag from our supply chain. The move to cardboard has enabled us to meet our target to use a 100% recyclable packaging material. The tray and lid design have also allowed us to maintain the required product protection throughout OrchardWorld and Ocado's supply chain.
'With the improved packing speeds offered by the Ravenwood machine and the development skills of Peake Fruit, we are delighted with the improved production efficiencies and enhanced sustainability principals we can offer the Ocado consumer.'
As part of its overall strategy and as a signatory of the UK Plastics Pact, Ocado has committed to reduce its dependence on plastic, and use 100% recyclable packaging for all own label products by 2023. The Pro-Produce pack using Ravenwood linerless technology for fresh produce has enabled Ocado to move from a hard to recycle bubble wrap format, to a fully recyclable cardboard pack. The pack will help to contribute significantly towards sustainability targets and embedding circularity.
Daniel Costigan, sustainability lead at the retailer, said, 'At Ocado, we are always looking for ways to reduce our waste and provide our customers with greener choices. We are delighted to be rolling out fully non-plastic packaging for three of our best selling varieties of own label apples. Our team is hard at work developing more packaging innovations for our extensive range. Ocado Retail is committed to being the most sustainable grocer and this further demonstrates our industry leading credentials.'