Recyclable solvent-based ink launched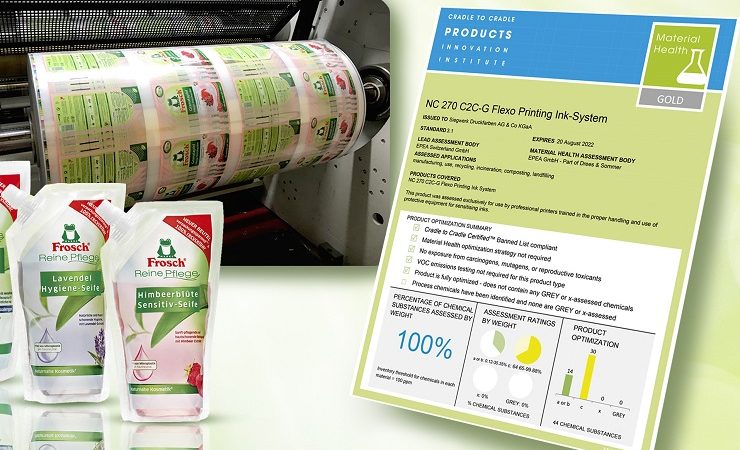 Werner & Mertz, in cooperation with its Reyclate Initiative partners, has developed a recyclable printing ink system for flexo, NC 270, which has been awarded the Material Health Certification (MHC) GOLD.
With the Material Health Certification, the safety of the solvent-based printing ink NC 270 is now confirmed scientifically for biological cycles. Gold certification is awarded exclusively to products that 'do not contain carcinogens, mutagens or reproductive toxicants with plausible exposure routes,' according to the MHC.    
Within the Recyclate Initiative, all packaging is developed in accordance with the Cradle-to-Cradle principle that is designed as a closed material cycle and to pose no risk to human health or the environment. Sustainable and healthy raw materials are just as important as packaging's recyclability after its use phase. That's why, in addition to the bottles and caps made of recyclable materials, sustainable printing inks are critical for a product's recyclability.
The use of sustainable printing inks is a significant step in designing packaging according to the Cradle-to-Cradle principle. 'In the spirit of the Open Innovation approach promoted by the Werner & Mertz Recyclate Initiative, the certified ink series with the product name 'NC 270' is not patented. It may be and should be used by other companies,' said Torsten Haas, packaging developer at Werner & Mertz. 
'The New Green Deal of the EU Commission calls for safe and reliable plastic packaging that is sustainable for coming generations and the environment. This project is the guide to that goal. It has been confirmed by an independent third-party with the only certification system for cycles,' said Albin Kälin, CEO of EPEA Switzerland, an accredited assessment body for Cradle-to-Cradle Certified and MHC Standard.
With the ink series NC 270 for flexographic printing, the Werner & Mertz Recyclate Initiative has developed the second important printing process for packaging. The flexographic printing ink system can be used to print polyolefin plastic sheeting such as polethylene and polyproplylene. It also is well suited to the stability and resistance properties required for the stand-up pouch. 
'We are proud that we could contribute an element to the development in this outstanding groundbreaking project. Now that a solvent-based ink for flexographic printing with MHC Gold certification is available, many 100% recyclable packaging solutions based on this single-layer PE stand-up pouch can be realised for the food and non-food sectors,' said Dr. Stefan Häp, brand owner collaboration team at Siegwerk.