What's going on in colour management?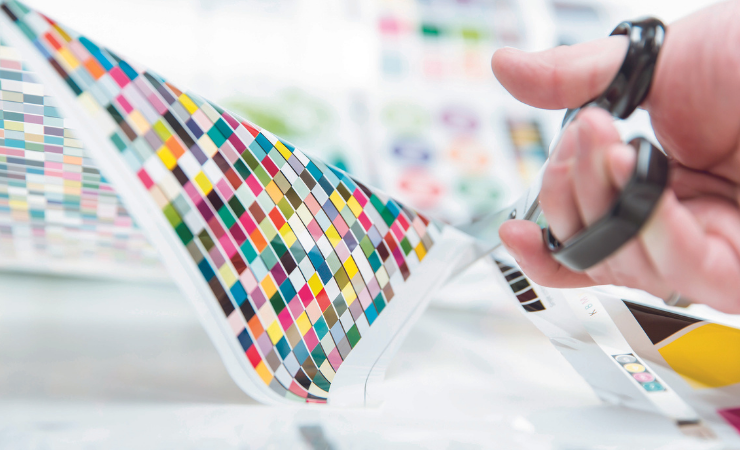 Printers need to hit the colour target every time the job is run
Colour management tools have been around for many years and have evolved over time to become more integrated into the print process offering the ability to know in real-time whether the printed result meets the brand owner's requirements.
Modern colour management workflows can automatically transform jobs from one colour standard to another, to meet certain press characteristics.
Modern packaging proofing systems can be tailor made to fit the process and can produce contract quality proofs on substrate, including intricate finishings, for a fraction of the cost, compared to legacy systems.
'Colour management software should be able to seamlessly integrate into common workflow environments,' said Heiner Mueller, sales director packaging at CGS ORIS.
'The ability to convert jobs to achieve identical results on different presses, those being either analogue or digital, is a huge time and costsaving factor and helps to significantly improve press capacity utilisation and waste cost reduction. Dedicated packaging proofing solutions, including remote proofing, help streamline customer communication and the ensuing approval processes.
Cloud-based colour quality monitoring tools allow an instant overview of all quality parameters.
'A powerful colour proofing system allows for instant predictability of how a certain job will look on a different substrate, and a colour management workflow can automatically perform necessary file modifications without manual intervention. Furthermore, intelligent algorithms can drastically reduce the amount of ink on press, simultaneously improving grey axis control and uniformity during the entire print run. The result is a very efficient process with short makeready times and results that can easily be repeated, even on different presses or substrates.'
This can avoid unnecessary test runs on press or proof, thus saving material and time, resulting in a resource-saving and sustainable way of working.
Mr Mueller continued, 'This is multifaceted: colour management software helps to eliminate a lot of unnecessary steps in the workflow as many things can be calculated and simulated in advance. The software first and foremost offers increased flexibility and automation across the entire production chain, from design to press room.
'It is also the key to securing colour communication of brand and spot colours and allows jobs to be automatically converted to be used with new press set-ups like extended gamut printing. The increasing digitisation of printing processes would simply not be possible without modern colour management. Besides that, it streamlines processes by achieving faster drying times or very short change-over times on press. In the end, more time is gained for additional jobs and shorter delivery times.'
Keeping online
Where the magic happens, the printing, is also the point of the process with least control and predictability. In most cases, printing in packaging and labels occurs in a roll-to-roll format making it impossible for any offline colour management process to manage what happens between roll splices. Printers with a good colour management process will employ a mix of software and hardware tools such as ink management databases and handheld spectrophotometers to get and use data to either validate colour is ok or to inform a correction.
John Cusack, business development manager for Baldwin Vision Systems, said, ' When these processes are offline and statistical in nature – measurements are taken at the end of each roll. When the measurements are good then surely all 5000m of material within that roll is good too? When it is bad – when did it go bad? In the last 100m or in the first 100m (do I have 100m  of bad material or do I have 4900m of bad material? What is the cost to figure that out? Rewinding slowly offline, taking measurements every few hundred meters manually? Scrap it? Ship it to the brand owner and hope they don't find out?'
The solution is to move this process on press, to measure the print in real-time. Mr Cusack continued, 'Baldwin's second generation spectrophotometer, DeltaCam, uses a web stabilisation method with an ISO certified
BCRA tile that meets applicable ISO standards for geometry and backing, ensuring device accuracy and repeatability. Its ISO compliant design makes it inherently and highly agreeable with other calibrated well known handheld devices allowing
DeltaCam to fit seamlessly into any offline colour management workflow, ensuring the required combination of accuracy and agreeability.
'DeltaCam's ability to automatically measure colour targets at high frequency at high speed allows it to capture a lot of data in real time. This is the key missing ingredient to a truly effective colour management workflow – timely, accurate data to drive the process. DeltaCam facilitates fast, on the fly colour management, potentially eliminating colour waste on press through early warning trend screens where corrections can be made before colour goes out of spec.'
Centralised integration
A centralised colour management system, such as the GMG ColorServer solution, provides a central database, which unifies the handling of measurement data, proofs, colour libraries and print, to help avoid costly mistakes. The software can seamlessly integrate into third-party workflow systems via XML or API connectivity.
Introducing a new material into your print production is made easier with the press profiling tool GMG OpenColor. The technology uses spectral data calculations to create profiles including printing technologies, media types and printing order. According to the company it provides spot colour prediction on any substrate without fingerprinting, with results so reliable that profile iterations are no longer necessary.
OpenColor's MiniWedge prints just 39 swatches, so it's small enough to position in the trim area of almost every print job. Printers can profile for proofs and separations quicker and not have to fingerprint every substrate or printing condition as there is enough information contained within the MiniWedge for OpenColor to produce a new profile; easily and quickly. As you can print live work at the same time as profiling the press, this means savings in time, reductions in waste and improvements in quality.
OpenColor is included in the GMG ColorServer solution for automated colour conversion, and integrates with the GMG proofing solution. Precise conversions from
ColorServer are automated to reduce make-ready time, remove errors and cut waste. Pre-press can predict exactly what the final print result will look like – across any ink set or substrate. This streamlines the approval process and keeps customers happy for long term profitability. Reducing the time it takes to get a press in to colour can save the average print business tens-of-thousands a year in paper and ink waste. Additional cost savings come from ink optimisation and/or the removal of channels to cut click costs.
Accuracy and efficiency
Mark Verbist, director business development of ColorWare explained to FlexoTech just how pivotal colour management is to printers today.
He said, 'MeasureColor can be used on any printing press, where each job needs to be measured on the press, during the print run. The data is collected and sorted in reports where you can benchmark your press or another component within the process, as well as logging recipes and waste. Users can then use the data to look at what is the ratio between make ready time and production time. Here the printer can work out if they can complete the job in five stops or can it be done with one.'
This level of measurement is critical because more brand owners today are asking converters for proof of quality, with many asking for print run data to prove the print is in tolerance.
Mr Verbist said, 'The larger brands especially demand data, print companies try to hold them off as long as possible, but our system is about process improvement first and foremost. If you can standardise and control your process, then you know you will be within tolerance and be more than happy to supply your data to the brand owner.
'With improvement and validation being the aim, GMG modules can be imported into the workflow. GMG can predict the digital proof and set the colour targets, such as the Heineken green for example, which is imported into MeasureColor, which connects pre-press with the printing world. And of course this helps you to report back to the brand owner.'
Mr Verbist concluded, 'The second function within our process is to maximise sellable print on the press. Less make ready reduces the cost and maximises the margin of the job. If a printer can replace a three stop job for just one stop they are increasing the press availability which could help them have 10% more jobs in a year.
'The software has a calculation model to see how much more free time they generate for the machine park, using MeasureColor they may discover that they don't need to invest in and additional press, or maybe they don't replace the press as soon as they thought they would.'
Colour management brings much more to the table than producing consistent colours; Automated colour conversion across different printing technologies achieves huge time and material savings, at the same time as colour matching – across flexo, offset or digital, and no matter whether CMYK, CMYK +spots, or multicolour. Plus, a significant increase in capacity is enabled through greater print speed and stability.