Connecting ideas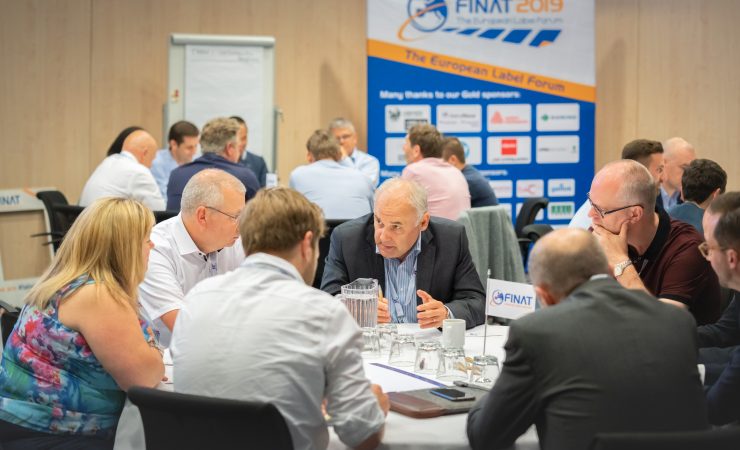 Label converters took time out to discuss topics affecting the industry
As FINAT celebrates its 60th anniversary, the European Label Forum 2019 gathered attendees in Copenhagen in early June. Topics debated included the smart future of labels, the sustainability of filmic materials and connecting with the target audience. By Neel Madsen
With some 250 participants at the Scandic Copenhagen hotel and an engaging programme, the European Label Forum (ELF) 2019 was a great success. The attendees were first welcomed by president Chris Ellison of OPM Group, followed by Frederik Krause from TickoTryk on behalf of the Danish Label Association (DLA). He congratulated FINAT on the well-attended event and gave a brief overview of the country's label industry. Denmark has a very high consumption of self-adhesive labels (18–19sqm per capita), which is reflected in the large number of label printing companies, most of which are members of the DLA.
In his keynote speech, 'Acting like a master thief – changing the way we understand our customers' Hamish Taylor emplored, 'Look outside your own industry for new inspiration. We're all facing the same challenges so maybe we can find the same solutions.' This is an approach he has successfully implemented throughout his career working for the likes of Proctor & Gamble, British Airways, Eurostar and Sainsbury's Bank. He said, 'Put the customer at the centre of everything and innovate to bring them benefits.'
There was more from the DLA from vice president Lars Ole Nauta, CEO of FlexoPrint, and from his Swedish counterpart Leif Persson, who is vice president and managing director of StrongPoint. Together they spoke about the challenges faced by the Nordic label market. While Denmark has a highly motivated and well-trained label printing workforce, Sweden struggles to find printers, especially for the flexo sector, and Norway faces a 20% over capacity in machinery and strong government regulation.
Survey results
The latest European labelstock and RADAR market update was presented by FINAT's managing director Jules Lejeune. The market is seeing a falling trend in consumption as growth has slowed down considerably since Q3 of 2017, 1.4% compared to 3.7%, in line with most other industries and as a reflection of an increasingly unstable economy.
The top five countries, Germany, the UK, Italy, France and Spain (in order of consumption), account for almost 60% of label production in Europe, with numbers static (Germany and France), falling (UK) or growing modestly (Spain and Italy). Even so, Mr Lejeune said that prospects for self-adhesive labels and narrow web, short run packaging are still promising as continuous innovation and agility are key assets for brand owners. His investment predictions for this year, however, were less optimistic as the economic uncertainty is holding back progress.
Corey Reardon, CEO of AWA Alexander Watson Associates, put the global labelling and product decoration in context, speaking about the broader trends. The Asia Pacific market is the fastest growing at just under 6% annually, while Europe and North America are growing at 1% above GDP. Looking at the various segments, shrink sleeves is the fastest growing, but at a fairly slow rate. Flexible packaging is replacing rigid containers, with pouches taking hold in many categories. In terms of technology, digital will not replace conventional presses, he said, but play an important role in the form of hybrid systems. Direct-to-object is in the development stage and will also play a role in the future. 
In his talk on design approach, Guido Schmitz, adjunct professor at Rutgers University in New York, advocated taking a holistic view when thinking about the future of labels. He shared some interesting insights and gave a demonstration of samplesof 'future packaging' projects that his students had engaged in.
Value-adding sessions
The parallel business learning sessions during the afternoon offered three different tracks. The smart future of labelling innovation, the sustainability of filmic innovations and connecting with our target audience. 
Tim Paridaens, director at Deloitte Consulting, specialises in strategies and architecture for the Internet of Things (IoT). He spoke about the capturing value from the smart packaging revolution, outlining 10 types of innovation, saying, 'Today, most value is created outside of product innovation.' After demonstrating the power of technology for packaging and retail with some fascinating case studies, he concluded, 'Smart packaging is a solution not just a technology. The market is still in its infancy, but it has the potential for exponential growth.'
Matthias Vollherbst, from Vollherbst Druck in Germany, gave a demonstration of the Labelinmotion augmented reality app that his company has developed for the wine market. He presented the business case for using AR as part of a company's offering and underlined how label printers can reposition themselves to become a 'wine marketing solutions provider.'
The second stream featured Achim Grefenstein, Constantia Flexibles, and Casper van den Dungen, Plastics Recycling Europe, each covering different aspects of 'design for recycling'. The third and final stream focused on the personal development aspect of the business and introduced Koos Wurzer, global employer branding and candidate experience manager at Danone, who outlined what small and medium enterprises can learn from one of their global customers in the war for talent.
Alastair Banks from Optix Solutions in the UK discussed how your personal brand can work in a B2B environment, helping attract new business through the engagement on various online platforms. He started his own company at 19 and today employs 20 staff. He stated, 'Engagement is vital. You can attract more work and opportunities through your personal brand than your company marketing.' Offering thought leadership, networking and building your own brand means you can charge more and also offer more value to clients.
Changing retail
Wijnand Jongen, founder of the Dutch ecommerce platform and quality mark Thuiswinkel.org, opened the final day of the event with his talk on the changing retail landscape and the role played by labels and packaging. He said, 'We are on the brink of an enormous transformation, a new era, and it is all about artificial intelligence. AI is the big game changer.' We are seeing a morphing of the role of the store, as shopping channels and business models merge. E-commerce is speeding up as online retailers open bricks and mortar spaces to deliver the experience consumers are craving. After showing multiple examples of this type of change from his travels worldwide, he concluded, 'Retailers should fit into the consumers life, not fit consumers into the retail environment.'
After a lively debate picking up on the takeaways from the presentations, closing keynote speaker and 'creativity explorer' Fredrik Härén offered delegates his Idea Book, and gave some entertaining examples on his definition of an IDEA: P(K+I). An idea equals that a Person takes his/her Knowledge and combines it with Information. Challenged by the audience, he argued that nothing is totally new, everything is a combination of previously known things in a new way.
Networking is key
During the FINAT assembly, president Chris Ellison gave his annual report. He talked about how the topics that had been debated at the 2018 event, including Brexit, the economy, technology investment, marketing, food safety and generational change in the industry, are even more relevant today. This had become clear from the converter roundtables, the parallel learning sessions and the plenary sessions throughout the event. He said, 'One significant indicator is the fact that our industry's demand cycle, as presented last year, has proven to be an early signal of growing economic uncertainty in Europe. The investment boom of recent years is slowing, so let's hope that Labelexpo will be a catalyst for a reboot.'
'My second year in office has confirmed to me that FINAT's greatest value lies in peer-to-peer networking – connecting industry experts, exchanging knowledge and experience, and collaboration of volunteers and professional. It is all about the people and after 60 years of FINAT, these ingredients will unquestionably continue to define
its success.'
The next event will be a technical seminar in March next year, to be held in Barcelona, whilst the ELF returns on 3 June 2020 in Rome.