Advantages of UV inks and curing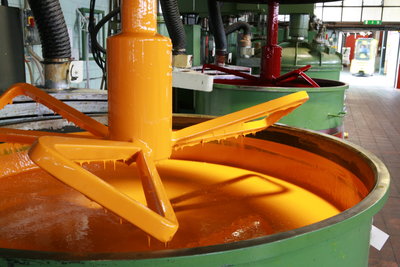 Ink manufacturing at Sun Chemical
Using ultraviolet light for curing flexo printing inks offers many advantages and has since it was first developed in the late 1980s become widely adopted particularly in the narrow web label printing industry. By Neel Madsen.
The numerous advantages offered by UV flexo inks and curing systems have allowed printers to improve print quality, increase productivity and provide a safer environment in the pressroom. This has resulted in a broad adoption of the technology. Colour accuracy and process improvement has helped flexo printers to produce better, faster and cheaper output than was previously possible.
Ink
'UV flexo inks used for label printing can have a dramatic effect on the efficiency, cost of production and quality of the output,' said James Whitehead, product manager at Fujifilm UK, graphic systems division. 'First of all, they boast outstanding chemical and physical resistance properties that don't require any protective varnish and consequently streamline the workflow. Their fast curing process also allows printers to save energy and reach high throughput. What is more, UV flexo inks can benefit from high colour strength, which means that they are economical in use and able to achieve better quality output compared to solvent and water-based inks.'
Sun Chemical's product manager narrow web labels, Mark Walkling, said that the main advantage of UV flexo inks when comparing them to solvent-based flexo or gravure inks, is that they do not contain VOCs or solvents. Using VOC-free inks means printers don't have to invest in flameproof equipment, solvent extraction, incineration or recycling equipment, offering a clear capital investment advantage.
It is also possible to achieve superior print quality with UV flexo inks such as finer dots and more intense colours compared with solvent or water-based flexo inks. 'Being able to print sharper and finer dots provides the printer with the opportunity to print a higher quality print, therefore adding value to the product,' he said.
The stability of UV inks is another major contributor to their popularity. As the inks only cure when exposed to UV light of very high intensity, they can be left on press, saving on wash up and cleaning as well as leaving the print station ready to print. The inks need no modifications or adjustments before going on press and remain at the same level of viscosity.
Mr Walkling said, 'In comparison to water-based inks, ease-of-use has always been the main advantage of UV flexo. A printer using water-based inks is always going to be fighting the battles of viscosity, drying speed and re-solubility characteristics, as well as temperature and humidity. All these factors can affect the final print quality and rely on the printer's understanding of these factors and how to modify the ink on press to compensate.'
David Ward, managing director, Stehlin Hostag Ink UK, said, 'UV flexo inks, such as our NewV flex, are finished inks, ready to use with no additives, such as thinner, retarders, accelerators, so no color adjustment on the press is required. The ink viscosity is constant and gives no variables in the printing process, there is no rheological change to the ink system within the application. The consistency of the ink remains the same from the ink reservoir to the substrate. This all makes for a simpler, easy to handle process.'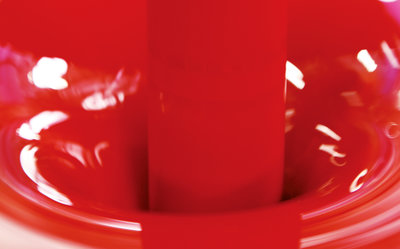 UV flexo ink from Paragon Inks
Amanda Jones, sales director, Paragon Inks, emphasised the high quality print that is achievable with UV inks. She explained that the choice of raw materials today means that UV inks and coatings often outperform solvent and water-based flexo inks. As the inks have 'structure', minimal dot gain is seen giving an overall better dot and print effect. She also said that the overall running costs of a UV flexo press along with the advantage of the technology offer the printer the most cost effective performance system possible.
Simon Mitchell, joint managing director of IST (UK) Ltd, said, 'The main advantages of UV curing is the ability to fully dry the ink during the print process enabling the substrate/product to proceed to the next part of the conversion. In addition, key advantages of UV curing provide product enhancing features, such as surface protection and gloss finishes. It can also be employed for laminating, tactile finishes, screen ink finishes and many other versatile print processes where UV can immediately cure and finish the process.'
_________________________________________________________________________
Ultraviolet (UV) rays are a type of electromagnetic rays used to initiate the photochemical process, or UV curing, in inks, varnishes and coatings. UV inks are made up of oligomers, monomers, pigments, additives and photoinitiators. The polymerisation reaction can be via a radical or cationic mechanism. There is 1.5 to 2 times more pigment in UV inks than in solvent and water-based inks. Additives may include slip and anti-scuffing agents, adhesion promoters, pigment dispersing agents, defoamers, gloss promoters, storage stabilisers and slip control. Migration can happen through direct contact, diffusion of molecules, set-off or as vapour phase transfer.
_________________________________________________________________________
Issues
The main disadvantage of using UV inks and curing is seen in relation to food packaging where the risk of migration of the ink components into the foodstuff causes concern.
Mr Walkling said that food safety can be a potential problem for any print process or ink technology if it is handled without the care and discipline required throughout the supply chain to protect consumer health. 'There are many fears about using UV technology for sensitive applications such as food, pharmaceutical or tobacco packaging. Most of these occur because of inappropriate use of inks and coatings that were not designed for sensitive applications such as these.'
It is essential to choose the right ink supplier that produces UV inks specifically designed for food packaging, manufactured under Good Manufacturing Practice (GMP), and that uses materials from audited and GMP raw material suppliers. Once the right ink is chosen, the printer needs to have certain process controls in place to ensure the printed product is made under GMP and meets customer requirements.
Sun Chemical has produced the document 'Designing Packaging with Certainty – A Best Practice Guide', which offers advice on areas such as packaging design, ink choice, how to control the press and the pressroom.
BPIF labels also offers a Good Manufacturing Practice Guide for the printing of labels and related packaging for the food, drinks and sensitive products sector. More guidance can also be obtained from the British Coatings Federation (BCF) and the European Printing Ink Association (EuPIA).
'It is a myth that an ink is compliant in its own right,' said managing director of ColorGen, Mark Bowman. 'Compliance is required by the end user of the packaging and it is derived from the whole construction, not only the ink. As no common standards exist in the EU, or globally for that matter, one could argue that the ink manufacturer should always provide a product with absolutely the lowest 'potential' for migration. Unfortunately this is always going to be the most expensive formulation. Faced with a commercial challenge, some printers will seek a more cost effective solution, and some ink manufacturers will be happy to provide them. This, however, may result in a compromise to compliance. Only a costly and time consuming analysis of the final packaging construction will provide the definitive proof of compliance. If the printer is unwilling to accept that cost, decisions regarding ink will be based solely on the information provided by the supplier.'
He continued, 'The potential problems lie not necessarily with UV flexo inks themselves but rather the ever changing requirements of the end user, whether that be self-adhesive labels, cartons or flexible packaging. The challenge for the printer lies in deciding what is the correct ink for the application and whether it will meet industry guidelines, especially in regard to food packaging.'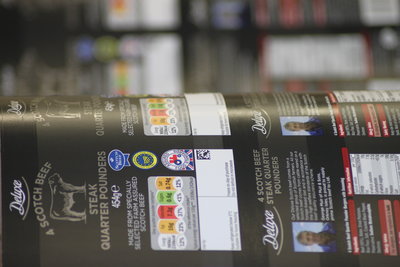 ColorGen's new super matt varnish
Other issues include adhesion to uncoated films, which means that not all jobs can be easily converted to UV. The viscosity of the ink is also different and can cause 'spitting' issue though these can be addressed in the choice of anilox roller used.
Amanda Jones, sales director Paragon Inks, said, 'It is all about making the variables associated with UV flexo printing constant. UV flexo printing is like creating a jigsaw. The pieces all have to fit together, if they don't then the system doesn't work.'
Product news
Sun Chemical has launched a new range of UV flexo opaque white inks, headed by SolarFlex Neutron White, and backed up by SolarFlex Lightning White, and a range of shrink sleeve white inks, SolarSleeve High Opacity White, SolarSleeve Last Down White and SolarSleeve Low Slip White. SolarFlex High Adhesion White was also launched which offers a good adhesion to a significantly broader range of substrates. All these whites can be used with the SolarFlex Nova SL range of UV flexo colours.
ColorGen has recently introduced a high opacity white and a super matt varnish. One of its customers has now completed the first production run and achieved gloss levels below 5%, which the company said is an industry first. Its new XLM range of low migration inks are based solely on materials that provide the lowest potential for migration.
Flint Group Narrow Web is introducing a new range of UV flexo adhesive products designed specifically for UV LED curing under the EkoCure brand. EkoCure products are developed using specially selected raw materials that match the narrow and targeted wavelength area that is typical for UV LED lamp output.
Fujifilm offers a range of UV flexo inks for labelling, packaging and narrow web applications. Its UVivid UV flexo inks have been developed using Micro-V dispersion technology for optimised viscosity quality and consistent colour accuracy. Within this range, UVivid Flexo JD752 Supernova White is a key product. It is an ultra-opaque flexo printable ink that can replace rotary screen white ink, and allows fine text and opaque solids to be combined on the same plate.
Pulse Roll Label Products has launched a new series of UV curable fluorescent inks, which was developed and formulated by the company's in-house R&D team in Bristol, where the company is also manufacturing this new fluorescent RDF ink series.
The UV curing fluorescent ink range is suitable for use in general label printing and has recently undergone full beta testing. Print trials to date have shown increased colour strength, allowing lighter aniloxes to be used whilst achieving the same density, as well as showing a smoother lay, resulting in a higher quality label.
Pulse Roll Label Products has just launched new UV curable fluorescent inks
Stehlin Hostag Ink UK is part of the hubergroup well known for being a pioneer in low migration offset products. David Ward said, 'The hubergroup is currently finalising the development of a low migration UV flexo ink series based on self-made highest purity, higher functional and molecular weight components which will allow us to reduce migration and odour to a minimum whilst increasing the adhesion characteristics on non absorbent substrates.'
Zeller+Gmelin has the Uvaflex Y71, low migration UV flexo ink range for the printing of flexible packaging and labels. Process inks, Pantone base inks and monopigmented base inks are available while special shades are available on request.
Curing systems
The environmental benefits of using inks free of VOCs is mirrored in the modern UV curing systems which have very low energy consumption. With shorter time to market, the speed of UV curing is also a major advantage. The ink dries fully instantly with no waiting time, so products can be sent out as soon as they come off the press or converting line.
'Previously, many printers would have to rely on pile heating which takes up considerable space and can take up to four days to dry completely. Not only costing money in terms of storage space, but also in time. Printers can effectively shorten their lead times by three to four days to their customers,' explained Mark Loveridge, commercial director, Alpha-Cure.
As a manufacturer of UV curing and metal halide lamps, Alpha-Cure is always looking at ways of saving on energy and reducing the operating costs of the press. The company is currently working on a new lamp with a longer life that runs at a lower power. Mr Loveridge said, 'The industry average is about 1500 useful hours from a lamp, we are targeting 5000 hours. Some of these advancements are already present in our current lamps and we are confident that these outperform the competition.'
To achieve the best print quality, it is imperative that the UV curing unit is regularly cleaned and maintained, keeping it free of dust and dirt. Furthermore, standard medium pressure mercury vapour lamps do not emit the same UV intensity throughout their lives. The printer therefore needs to monitor the performance of the lamp and the ink.
Mr Loveridge said, 'As with any other system, a UV curing system must be installed correctly by a reputable company. It should also be maintained in line with the manufacturer's guidelines to ensure it is operating at maximum efficiency all of the time – this is true of any system regardless of process.'
Sun Chemical's Mark Walkling commented, 'There are two main factors that ensure enough UV light hits the UV curing ink – the lamp and the reflector. If there isn't enough UV light available to the inks, then they won't cure properly, leading to potential rub, scratch or product resistance problems and/or odour issues.'
IST's narrow web system, the MBS-6, requires a lamp output of just 120 W/cm which provides the same drying results as standard UV systems that can require up to 200 W/cm.
Simon Mitchell of IST (UK) Ltd said, 'The running costs of UV curing systems are lower than ever and this is likely to reduce even further in the future. UV within the flexo printing industry has significantly grown over recent years and from its early introduction, the demand for UV is now applied to almost all new investment with an estimated 96% of new presses being equipped with UV.'
The company has been able to reduce energy consumption in its systems to combat the cost of energy by lowering the W/cm necessary from 200 to 160, 140 and now 120, yet the curing/drying principle has remained at the 200 W/cm level and print speeds have not reduced.
The latest development from IST is the UV LED 'prepared' MBS-6 system that enables printers to have their press equipped with the infrastructure ready for LED for a potential changeover to in the future.