MIS and workflow systems for flexo
Shuttleworth dashboard information display
Management information and workflow systems are not the sexiest part of flexo technology. They are the All-Bran to an à la carte breakfast, but in the long run, it is the high fibre diet that is better for you. So it is with MIS and JDF – some might say they are dry – but they are essential for the well being of a flexo converter, optimising performance. By Sean Smyth.
Converters are working hard to improve their operational performance, making significant progress across all aspects of production. The flexo process is greatly improving with better pre-press, plates, anilox, press and finishing technology, simplifying production and helping reduce downtime and waste.
The business has changed, with shorter runs and faster turnaround increasingly demanded by customers. This puts pressure on the business processes as well as production. The sales function has to win more orders, while the administration function has to process them more quickly. Pre-press has to handle more files, obtain approvals and then make the plates to the highest quality levels and this can be even more complicated when plates are bought in.
Fortunately there are many tools to help converters get on top of these pressures. New management information systems (MIS) and digital workflows are helping to reduce bottlenecks while improving productivity through minimising manual intervention.
Managing information
Management information system and workflow developers have increasingly focused on productivity enhancements, eliminating manual steps and repetitive tasks, following the tenet of eliminating non-value adding activities.
As digital workflows have become the norm for most flexo users, the potential for automation is being realised, with JDF standards useful in tailoring a solution for any combination of MIS, pre-press, print and finishing systems. Users select their preferred supplier (or suppliers), choose the modules they require and then implement the system. This could include a web customer portal for enquiries; sales and marketing functions including CRM (customer relations management); estimating; planning and scheduling; file receipt and approvals; material ordering; production management including shop-floor data collection in real time; stock management and warehousing/despatch; and accounting functions. The MIS is the central system for more companies, with reporting, performance measurement and feedback through the use of key performance indicators important functions.
EFI is the undisputed global leader in print, label and packaging MIS, with its systems used by flexo converters across the world. The company has followed a strategy of consolidating the sector by buying up MIS suppliers and it has over 10,000 packaging and print installations that, 'Help packaging companies increase revenue, streamline operations, improve profitability and in short, optimise business performance.' It says that the average packaging MIS software lifecycle is 10-15 years post implementation, designed to provide a competitive edge by dramatically improving front and back-end business processes.
The MIS should streamline business processes, improving customer service through better information and helping increase productivity across the operation. A system will provide accurate and real-time access to critical business information, helping all personnel with their timely decision making.
Sweet suite
Esko is the leading supplier of flexo pre-press workflow, enabling better connections across the supply chain, achieving higher consistency and quality, helping operators to work smarter with templates and intuitive tools. The latest version, Suite 14, released in July this year, highlights the use of automation to boost productivity while maximising quality.
Carsten Knudsen, president and CEO, commented, 'To be successful today, packaging service providers are required to perform exceptionally well in all areas of packaging pre-production. Converters must execute perfectly and efficiently to remain profitable. There is also a need ensure regulatory compliance and to operate in an environmentally sustainable manner within the entire ecosystem. Above all, everyone throughout the entire packaging supply chain must be able to work together effectively to achieve these goals.'
Suite 14 builds on years of flexo expertise with developments pushing workflow automation forward. It uses The Cloud to aid connectivity through the WebCenter 14, leading to faster turnaround times and reduced errors. It features important flexo pre-press tools of course, from 3D visualisers to detailed trapping inspection and handling dispro functions for different plate types, including Full HD Flexo. The release includes FlexProof, featuring a task-driven user interface to simplify and optimise proofer device profiles, providing the highest possible matching to the production press and materials.
There is seamless data transfer with flexo pre-press software packages, such as ArtiosCAD or Adobe Illustrator, providing access to managed assets and information. The Connect software kit allows integration with many third party solutions including MIS. Esko lists 29 partner suppliers on its website that it has high-level bi-directional integration with, adding, 'Whatever system you have, there is always a way to integrate.' It also can integrate other useful tools, such as distribution and shipping companies and with web applications, for example Google Maps. These features help to remove manual activities from packaging prepress, driving end-to-end automation, while improving customer service.
Cologne headquartered The Quick Brown Fox is one of Esko's partners. It offers the Aramis packaging system that is a market leading packaging pre-press system in Germany, resulting from the specific advantages of the software with a track record of successful integrations with workflow systems. It concentrates on flexo and packaging specifics, with  fundamental specifications for flexo print and prepress – from corrugated to labels to foils, using high levels of automation to eliminate manual tasks and improve customer service.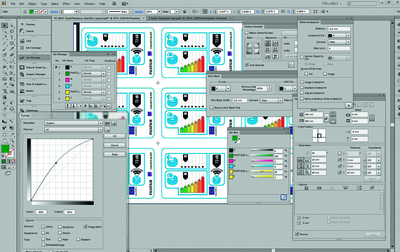 FFEI RealPro Toolkit colour editing 
A real pro
FFEI just released version 6.0 of RealPro Toolkit, featuring 12 new features to improve efficiencies in pre-press. There is a module for identifying and eliminating banding and other artefacts on flat tints. Colour editing using curves on both vector and raster artwork is possible, useful for modifications of objects printed on highly reflective metallic/holographic substrates where profiles are not effective. Carl Smith, product manager for RealPro, commented 'Pre-press for flexo can be the most complex and challenging of all print subsectors, often requiring many manual and very complex edits to PDF or native Illustrator design files. RealPro Toolkit 6.0 provides professional pre-press productivity tools for labels and packaging targeted specifically at flexo, screen and gravure printing (along with offset and digital work).'
Version 6.0 has over 40 tools to improve the efficiency of pre-press. These cater for all aspects of flexo pre-press. There is vector-based trapping, nesting, automated and CAD driven step and repeat, editing, inspecting and other functions that help operators boost efficiency while producing higher quality and more repeatable work. RealPro Toolkit can be combined with any PDF workflow, and operators can reduce artwork modifications from several minutes to just a few mouse clicks and a couple of seconds.
On track
Flexo printers could use one of many hundreds of different MIS systems, including in-house proprietary developments. These differ by the market sector they cover. There are regional, currency and language differences while the level of support for JDF – if any ― will impact how deeply the MIS is used in actual pre-press and production. Integrating the MIS with pre-press and structural design, to presses and finishing equipment and wider web tools will yield major benefits to any size converter.
Label Traxx is a specialist system with long experience in all aspects of label production, with flexo still the core of the system. Version 7.0 has tighter roll traceability features and an upgraded custom report writer. Two new import features have been introduced. Similarly constructed products can be created on the fly by duplicating an existing label product and importing new product IDs and descriptions. Secondly, a spreadsheet of existing product numbers and their order quantities can now be imported into a Label Traxx production ticket. Both features can save a significant amount of time for companies that deal with customers with large numbers of SKUs. A new feature has also been added that will quickly apply price updates to all products within a defined product group.
Tharstern's Primo is a powerful MIS solution that is built around print production, rather than having to add in functions like JDF support to an existing MIS. There is an online portal, e4print PRO which provides your customers with all the information they need, day or night. When combined with CHILI Publish it provides full variable data and proofing capability without the complexity of managing multiple systems.
Milestone
UK MIS supplier Shuttleworth is targeting flexo label and packaging companies with powerful product management functionality, designed to help the workflow process. Product management enables a single point of reference for all products and services whether they are made to order or supplied from finished stock. Products can be grouped with default templates to hold a specification for each product. A single product can hold multiple versions and specification changes. Multiple products can be added to an enquiry and the system produces a single quote. This is ideal for managing different sorts and means that they can be easily managed and tracked on a single enquiry. Other enhancements to help workflow include:
job tracking functionality 'Milestones', makes it quick and easy to view the status of any job as it progresses throughout the business; production scheduling includes a new option for automating the whole production planning process; a new 'Mobile Stock app' allows users to update stock transactions using a mobile device with barcode scanning if required; a fully integrated CRM package, including a mobile app enabling remote workers to access and update information.
Dawn Safford, marketing executive at Shuttleworth, said, 'Not only does our market leading MIS deliver powerful technical solutions which reduce administration and ultimately reduce cost and increase profit, but we also take pride in offering the very best levels of customer service and support'.
In the plant
KM Software Systems of Royston (KMSS) is a corrugated MIS specialist, supplying systems that are, 'Driven by what sheet plants require, rather than what is easiest for the programmers.' SPOCS, the Sheet Plant Operating System, was developed as a solution to the real-life problems of running the company founder's own sheet plant and is now complemented by a range of optional modules delivering functions such as shop floor data collection, real time stock management, and interactive production scheduling. 
Whatever the system, end-to-end integration can provide significant benefits to any flexo converter. It is not always easy, having a clear set of goals and a measurable plan is a necessary part of a successful implementation.
Remember, we don't necessarily eat All-Bran because of the taste.