Mounting in motion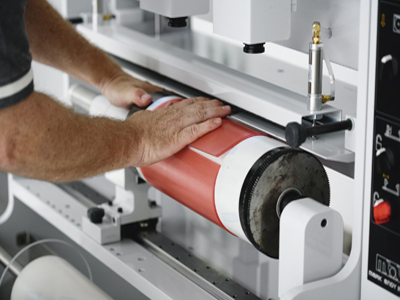 Downtimes are the bugbear of every flexo printer across the globe and change over times play a huge part in determining how long the press will stand idle. This is why efficient plate mounting is crucial to a slick flexo operation. By Michal Lodej.
Plate mounting systems today are filled with features to help limit errors in the mounting process and to protect the operators from work place ailments such as repetitive strain injury.
BiesSse has designed the TPMM (Tape and Plate Mounting Machine), a compact machine capable of mounting 75 sleeves, each of them with tape and five plates in an eight-hour working shift.
With the TPMM mounting operations are fully automatic: sleeves measurement, liner removal, tape cutting, tape and plate mounting, final inspection.
BiesSe's TPMM can mount 75 sleeves, each with tape and five plates in an eight-hour shift
The automatic tape mounting guarantees a perfect tension, position and alignment of the tape and an even and calibrated pressure, as not to create bubbles or streaks. The mounter can use any type of plate, even with bent edges, because of a composite guiding system and a special device which picks up the plate, takes it to the working area and keeps it perfectly flat during de-codification and plate check operations (using RFID, QR code, barcode). The information is recognised by the mounter and compared with those present in production management software. If the operator loads the plate, moves it and puts it the other way round, the system spots the wrong orientation and repositions it correctly. The plates can be loaded in any order as the unit always positions itself on the first free drawer and the system is able to select the ones required.
Once the plate is identified, the machine picks it up, moves it and puts it in the perfect position for installation. The TPMM uses PRT (Pressure Roller Trolley to exert a uniform pressure on the entire sleeve (incrementally from 0 to 9 bar), to eliminate bubbles even in highly detailed graphics.
Eagle-eyed
The Semi-Automatic Mounting Machine Upside Down is one of the latest additions to the AV Flexologic portfolio of mounting machines for cylinders and sleeves. According to the company, the SAMM USD is an option for anyone looking for an easy, fast and accurate mounting machine. Mounting with this machine requires almost no operator training and the machine automatically positions the plate. Alternatively, the company offers the Fully Automatic Mounting Machine (FAMM) mounting unit. This machine is able to automatically mount plates onto sleeves or cyliners using its image recognition technology. The machine is suitable for all flexible packaging printers.
Mark Andy PM100 is a manual plate mounting option ideal for companies that engage in decentralised, press side platemaking and mounting processes, focusing on simple, single colour jobs.
David Cloud, director, Business Development for Mark Andy Print Products, said that the effectiveness of manual plate mounting will always depend on how accurate the mounter's eye is for each job.
'Really good plate mounters can get it right most of the time,' Mr Cloud explained, 'but the reality is that it is a slow process and there is a lot of mounting and remounting to get multiple cylinders in tight registration.'
With converters expressing an ever-increasing difficulty in finding experienced operators for their flexo workflows, combined with the high quality expectations of the label and packaging buyers, converters who want to stay competitive in today's market cannot afford to not upgrade to video mounting technology.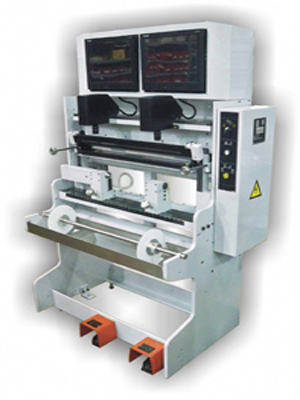 Mark Andy's VPM400
For these more critical applications, Mark Andy provides the VPM400. This is a standalone unit which utilises an adjustable table, plate cylinder mounting rails and laser pointers to ensure proper plate roll location, then incorporates a variety of technologies including dual HD cameras, HD quality monitors, and high powered LED lighting to more accurately align plates. This process is faster and more accurate than its manual counterparts, and reduces changeover times, improves productivity, and complements lean processes.
Despite the higher cost to implement video mounting technology compared to manual tools, Mr Cloud said, 'The return on investment is very quick and it would be a rarity for a job to be rejected by the customer for being out of register. It's a no brainer.'
Eurograv offer customers the latest Camis product, the SleeveMaster HD. The mounter uses both camera and mandrel positioning, both of which are controlled by a CN unit programmable by a touch screen that allows the operator to save jobs for a quicker set up in following orders.
The cameras move on linear guide, fitted to a support beam. The mandrel is fitted within the slide frame to provide stability and is equipped with adaptors to ensure it is compatible with all sleeves, which can be changed with a semi-automatic sleeve change system.
The image capture system is made up of two digital cameras with an accurate focus system that identifies any anomalies on the plate. The SleeveMaster HD features new control and check facilities to help the operator set the plates in register and a high end HD graphics package to meet the advancements made in high resolution HD plates.
A wider spectrum
JM Heaford provides mounting systems for all sizes of flexo sleeves from narrow to wide web and also for corrugated plate mounting.
The company's narrow web products include the Mounter – Flat Table, Mounter – Standard Size and Mounter Proofer.
Both the flat table version and the standard mounter come with two 50x magnification colour digital inspection cameras. Each camera has a high intensity LED illuminator which generates a spot of light onto the plate to enable rapid positioning and illumination of the plate register marks. The unit has quick release adapters for different cylinder types and tool free adjustment of left hand cylinder support for cylinders with different widths or a cantilever mandrel system for sleeves. Other features include a vacuum table to hold the plates in place for hands-free application.
The video mounting and proofing machines utilise the same high accuracy video mounting techniques as the Heaford narrow web mounting units but with the addition of an impression system allowing the production of a 'paste ink' proof. This enables the printer to check registration, text and general plate prinatbility before the cylinders or sleeves reach the production press and thus optimising press time. If a proof is not required then the machine can be used for precise plate mounting only.
Moving to wider web applications the company has the Automounter. A fixed mandrel flexographic plate mounting machine for accurate and quick mounting of flexo plates directly onto sleeves.
The unit has a maximum sleeve width of 1800 mm and a repeat range of up to 1350 mm. Two 100x magnification motorised cameras are connected to precision grade ball screws which are directly coupled to positional controlled electric drives to provide highly accurate mounting.
The drives are controlled through the intuitive HMI interface integrated within the Digital Vision System. Set up is easy and quickly adjustable via on screen icons allowing multiple positions to be set and stored. Plate positions can be input numerically, taught, or imported.
Other options include the Moving Camera (2CM) for mid and wide web applications. The unit comes with a maximum sleeve width 1500 mm (mid web) or 1800 mm (wide web) and a repeat range of up to 1130 mm or 1400 mm.
The 2CM model, includes position control to the cameras, however, printers who opt for the 2CM+ model will also receive position control to the cameras, camera beam and mandrel drive.
The company also has a comprehensive range of machines for handling plate mounting for post print corrugates applications for use in either a flexo plate making house supplying corrugated customers or in the pre-press section of a corrugated printing plate.
Machines are available for both flat or 'in the round' applications. Three of the machines have motor driven camera positioning systems with motion control on both axes and the fourth is a reduced specification machine with manually positioned cameras and motorised positioning for the y axis.
The three machines with full motion control ('in the round' mounter proofer, Flat Table with Proofing and Flat Table 2CS) can be set up to accept coordinate download files from pre-press software systems supplied by Esko and be Kodak. Job data can also be entered manually via the operator interface. Coordinate information is stored for each job and can be recalled if there is a need to remount the job or repair an existing job. The more manual machine (Flat Tabel 2CE) does not have data storage capability and each job is set up manually via a written coordinate 'lay sheet'.
Best Practices: Plate Mounting
The plate mounting department is a critical area for ensuring good registration on press as well as long run- life of the plate. If plates are handled poorly during mounting, the result could be defects in print, registration problems, ink-transfer issues, and/or press down time due to plate lift or sleeve/cylinder failure. To help printers mount plates correctly, US-based Anderson & Vreeland Inc has revealed its list of frequently asked questions from the flexo market.
Is checking bearings an important part of mounting when mounting direct to cylinder for a label press?
Yes. A simple spin of the bearing can determine if it's good or bad and can prevent down time on press. Bearings that don't spin freely should be greased or replaced if damaged.
Is it important to clean all grease and ink from cylinders?
Yes. Grease or other contaminants can cause high spots or plate lift. It is always a good idea to clean with Isopropyl Alcohol or Acetate.
What is the main purpose for applying tape or hot-melt glue in the plate gap?
To prevent solvents or inks from working their way between the plate and sticky back or sticky back and cylinder. This helps prevent plate lift.
Can a dull plate cutting blade contribute to plate lift?
Yes. Instead of cutting, a dull blade will actual burst through, leaving a burred edge on the polyester side of the plate. This prevents good contact with the sticky back.
Would you clean a plate with a standard bristle brush?
If using a brush to wipe or clean plates, the bristles need to be soft so dots are not damaged. A horse hair brush or a Pamarco Care Pad is preferred. Also, no woven fabrics – these will catch and shear off small dots.
Is it safe to clean photopolymer plates with basically any cleaner we find on the shelf?
No. Many cleaners can have chemicals harmful to plates. Many cleaners contain solvents that may change the surface characteristics of the plate and therefore the print. Isopropyl Alcohol is generally recommended. However, always check with the plate manufacturer for the best/recommended plate cleaning solution.
What is the best location to line your cameras up to on the plate? Tail or middle?
Middle. The easiest and most efficient way to get a plate mounted square is by starting in the middle of the plate.
Can rounded corner cuts can prevent plate tear during de-mounting?
Demounting a staggered-cut plate with 90 degree corners without tearing the plate is extremely difficult. It is recommended to round the internal corners to help reduce plate tear during demounting.
What is an easy way to work with sleeves with notches?
Order the sleeves notched for both sides. A double notch can prevent mounting in the wrong rewind position.
Is cleaning backs of plates with Isopropyl Alcohol or Acetate before use a good idea?
Yes. If left dirty this can create high spots or plate lift. It is always a good idea to clean with Isopropyl alcohol.