Go with the flow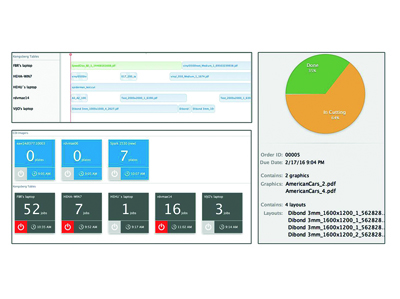 Workflow can connect and manage all aspects of a print job
Workflow is one of those slippery terms whose actual meaning seems to spread and defocus the harder you look at it. In print production processes it can be anything from the whole set of activities from goods in to goods out. Simon Eccles reports.
Here we are examining workflows across a relatively narrow set of actions needed to create printable artwork, then to turn that into job files and finally into printing plates, also known as digital pre-press. 
In the flexo world a lot of platemaking is still carried out by external service providers, something of an anomaly in the context of the wider printing sector where bringing pre-press in-house has been a time-saving trend.  This does not make much difference to the actual plate production process, though it does matter to associated MIS systems, where processes are different for work that is produced in-house or outsourced.
Belgian company Enfocus has been part of the Esko Group since 2007, but has maintained a separate product range and brand identity. Its Switch software is extremely flexible and can be set up to do virtually anything. It has a few built-in processing features, but mainly it works with hot folder sequences that are processed by other programs. Examples may be incoming file sorting, pre-flighting, file format conversion, links to databases, web stores etc. The latest Switch 2017 includes 64-bit support and remote access to workflows via web browser. 
Enfocus has established a network of about 30 partner companies such as RIP and graphics developers, to create direct links from Switch called Configurators. There is also an online App Store with about 55 ready-made workflows for both common and specialised process sequences. Users can also exchange free workflows if they want via Enfocus social media. 
The PitStop family includes automation at some levels so could be considered as a pre-flight workflow in its own right. In particular, PitStop Pro Server can take incoming customer files and automatically read them according to user-set rules. It can correct many defects automatically and pass them to another workflow stage, or reject them for operator attention.
Start to finish
Esko provides end-to-end pre-press workflows for all types of packaging and labels. It took its current form in 2007 as the result of some two decades of mergers and takeovers between mainly Belgian and Danish developers of design and pre-press software and laser imagers for the packaging and labels sector. 
By 2009 the company largely completed the task of integrating the overlapping Esko and Artwork Systems products into a large set of compatible systems and modules now called the Esko Software Platform. 
The Software Platform is modular and can be configured to users' needs. For instance the Quickstart for Labels package is a turnkey system that combines automation of routine tasks (such as trapping, step and repeat, job card creation), with packaging pre-flight and quality control, to give a standardised job process flow from receipt of artwork to output. 
The company offers its own suites of packaging and label design and pre-press software (ArtiosCAD, ArtPro and PackEdge), while its DeskPack is a series of plug-in modules that add packaging capabilities to Adobe Illustrator and Photoshop. In all cases the results can be passed to the production workflow server that takes job instructions, images and structural files and applies various processes before outputting them to a plate setter. It handles job organisation, colour management, imposition, step and repeat, nesting, and platemaking. 
Flexo-specific functions are added by the Automated Flexo Platemaking module. This includes imposition with nesting into larger plates for the imager, with identifiers for later cutting and mounting. It can export those as native LEN files for Esko's own CDI imagers, or TIFF for third party devices. 
The Imaging Engine turns image files into output instructions for a platesetter. This uses Adobe's APPE technology together with a wide choice of flexo-specific screening. This manages dot shapes, angles, distortions, bumps and so on, with different screens for individual objects  as appropriate. 
ACM file cutting information can be created for a digital cutting table (Esko makes the Kongsberg range) and can export positioning data to a downstream automated plate mounter from the likes of AV Flexologic, JM Heaford or Macroflex.
Alternative options
Founder was the first Chinese developer of high quality RIPs and workflows back in the 1980s and 90s when it was set up in Hong Kong. Now based in Shanghai it remains the only Chinese workflow developer with a credible presence in Europe. 
Founder's ElecRoc workflow is listed as one of the input options for the Chinese-built Cron HDI family of low-cost flexo platesetters. ElecRoc is also the standard workflow offering for a new Chinese flexo platesetter series called Aura, from Amsky. These are re-engineered in Spain to European standards and are being launched onto the UK market by International Graphic Supplies, which is also a Founder agent.
In the clouds
Back in Europe, another Belgian company with a strong presence in packaging workflows is Hybrid Software. It has concentrated on workflow automation in particular. Its Cloudflow system is a web based platform tailored for packaging graphics, with support for PDF, colour separation, trapping, screening, proofing and other production aspects.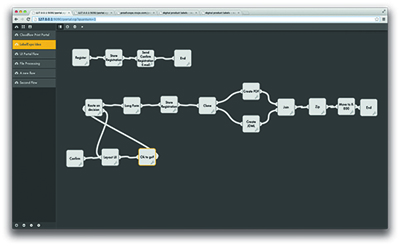 Screen shot of Hybrid's Cloudflow
Packz is a set of packaging-specific editing and pre-press software running on local Macintosh or Windows platforms. It is based on a native PDF editor with pre-press, image editing and quality assurance functions. These include trapping, separation handling, barcode creation and recognition, dynamic creation of info panels; object based screening and other functions. Distortion controls are available for conical cups, metal cans, symmetric and asymmetric shrink sleeves. These can be previewed with real-time rendering, using the IC3D 3D software.
Incorporating screening
Kodak's Flexcel system for film imaging, plate lamination and exposure has been one of the systems that helped revolutionise flexo quality in recent years. The Flexcel NX imagers can be driven directly by Kodak's own Prinergy pre-press workflow (currently at version 8.1) by 1-bit TIFFs or PDFs from other workflows. Prinergy can read XMP screening metadata in a third party input PDF and automatically convert it to Kodak screening on output.
Prinergy DotShop is an Acrobat based tool that lets users apply Kodak screening or curve data to any object, separation, or entire artwork, outputting a print-ready PDF in the desired printing colour space. 
The company also offers the Unified Packaging Workflow, a set of file processing tools that work together, including the InSite file asset manager, Pandora packaging layout tool, Packaging Layout Automation, and Spotless, for replacing multiple special colours with four to seven colour separations. It has developed flexo-specific screening including Staccato NX (hybrid) and Hyperflex (regular flexo). 
Dainippon Screen makes a family of flexo platesetters called the PlateRite FX series, in three sizes. These can be driven by a version of Screen's own workflow, Equios Rite, which is an entry level system with flexo friendly features. This incorporates Screen's HQ RIP, which is based on the Global Graphics Harlequin technology and uses its specialised flexo screening library including AM types for conventional flexo and letterpress plates, Spekta AM/FM hybrids for HQ plates, and also has the ability to mix screening types on the same page depending on image types. Alternatively, 1-bit TIFFs can be imported from third party workflows and exported to the PlateRite FX imagers. 
StudioRip XF is an entry level RIP which has a few flexo-friendly workflow features. These include imposition, trapping, proofing (both contone or actual dots), proof accuracy confirmation (using a colorimeter), ink spread compensation, dot texturing and an advanced built-in viewer to preview jobs, halftones, separations and plate layout. The halftone screens it generates can include hybrid AM/FM for flexo. Output support includes inkjets onto film for entry level flexo platemaking, as well as direct laser platesetters – for instance Cron Europe recommends StudioRip as an entry level alternative to high end systems such as Kodak Prinergy. 
Xanté's Symphony Flexo8 is the current version of a workflow system primarily intended for narrow width flexo label work. It uses Adobe's APPE core technology and adds production functions such as pre-flighting, proofing, Pantone matching to separations, halftoning with hybrid AM/FM screens (and removal of unprintable dots), on-screen previews of screened separations, in-RIP trapping (which can be zoned across a page), imposition templates, a die library, and output formats for legacy imagers as well as modern 1-bit TIFF types.