Inkformation technology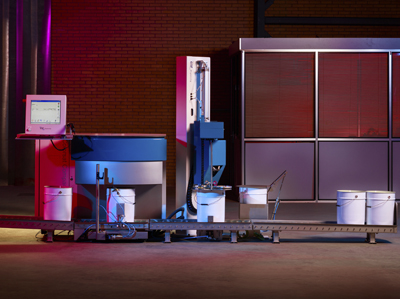 GSE's Colormix Conveyor
As consumables go, ink is one of the biggest outlays that a printer will have to fork out for, so getting the most out of your ink with intelligent storage, mixing and dispensing systems could quickly save your business a small fortune. Michal Lodej writes. 
When you think about ink dispensing systems, it is easy to imagine it as simply a network of pipes, buckets and dispensing heads. While important, these are merely the brawn front of highly intelligent software applications, where all the magic happens.
Martin Black, Rexson owner and director, said, 'Ink dispensing systems have been delivering savings to printers and ink companies for several decades now. I have been in the industry for almost 25 years with Rexson, and the fundamentals of the ink dispensing system have not changed. These fundamentals are to make "right first time" ink blends, on a "just enough, just in time" basis – with the ability to re-work any return inks into new batches. The reduction in overall ink consumption and reworking the waste ink can delivery savings of 20-30%.'
'The primary change I have noticed during my time has been the evolution of the management software we supply with our dispensing systems – and the take-up of customers now using all the comprehensive features of the software. This has been driven, in one part, by the need for greater traceability of inks and raw materials – so being able to track right back through the supply chain to find the batch number of the base product that was used to make an individual ink. This development of software capabilities has also been driven by the need to achieve a higher level of cost control, ink recycling and cost reporting and analysis. The ability to now interface our ink dispensing systems with business systems or cloud based networks is all helping companies share data throughout their business and across multiple locations.
'Whilst all the above information sharing can be very impressive, we should not forget that the source of this data is the staff in the ink room, who run the ink dispensing operation. Without them operating the system properly and effectively, then the information chain is broken before it even starts. That is why Rexson have invested heavily in recent years to provide the most user-friendly touch screen interface for operators to use the ink dispenser, enabling all the relevant data to be entered and recorded quickly and easily. The outcome is more of our customers seeing the fruits of the software management features and thus delivering more efficient and cost effective ink mixing operations.'
Spreading out
Rexson increased its share of the market with the acquisition of Vale-Tech in 2016 as part of a planned succession to allow the company to continue its growth and development, as part of a bigger group.
Vale-Tech predominantly supply dispensing equipment into the offset, paste and UV liquid and narrow web sectors, with cost-effective and compact equipment. The company's range of systems are complementary to the liquid ink, paint and chemical systems that Rexson supplies.
At the time of the acquisition Mr Black said, 'Rexson are delighted to move forward with Vale-Tech, its staff and products. Vale-Tech equipment very much compliments our own product range and we see clear advantages combining the strengths of both companies. Together we will be greater than the sum of our parts. The combination of the two businesses will add strength to both our sales and service networks in key regions around the world.'

Vale-Tech's manufacturing site
The acquisition has enabled the two companies to become more flexible, allowing them to support companies of all sizes, an important ability to have at a time when more and more companies are seeing the benefits of ink management technology.
Nick Scott, sales director at Vale-Tech explained, 'Ink dispensing systems were originally the preserve  of larger ink companies, printers and convertors. However, over the last 10-15 years the trend has been for smaller volume ink manufacturers and users to take advantage of the technology. This is a trend strongly noted by both companies under our umbrella, Rexson and Vale-Tech.'
One such ink company is Paragon Inks, who is a customer of both Rexson and Vale-Tech. Amanda Jones, business development and marketing director at Paragon Inks stated, 'It is our aim to offer a holistic service package for all our global customers. As part of this strategy we incorporate the use of dispensing systems for the ease of supplying consistent inks to and from the press. It is important to have the ability to develop customers' ink departments into their own cost centres, by way of optimisation and minimisation through the use of KPIs and benchmarking.
'The utilisation of both Rexson and Vale-Tech products and software, has allowed these goals to be achieved, in a production environment, with real-time statistical data retrieval and cost analysis.
'Paragon Inks has witnessed the development of one key customer's ink department, from a basic stand-alone system up to two fully utilised and interfaced ink dispensing systems that, in conjunction with the inks system from Paragon Inks, deliver day-to-day ink savings and cost optimisations.'
In the mix
GSE delivers dispensing equipment, software and services to minimise ink-related waste in the printing workflow. The provider of ink logistics solutions for label and packaging flexo and gravure applications, recently introduced new safety and automation enhancements to its Colorsat ink dispensing programme, and an ink management software that offers new ways of reducing waste. 

GSE's smart phone ink manager app allows remote monitoring of the ink systems
GSE has introduced two conveying and blending solutions that reduce manual input when delivering dispensed inks to the press. 
The Colormix Conveyor blenders enable safe, easy transport of dispensed water-based and solvent-based inks or coatings, in buckets, between the point of dispensing and blending. They are suitable for the Compact Dispenser, a system for high-volume packaging applications, and the Colorsat Slim, for small and medium volume flexible packaging and carton applications.
The blender can be semi or fully automatic, depending on the dispenser it is installed with. The semi-automatic blender, suitable for both the Colorsat Slim and Compact Dispensers, is delivered with a gravity roller conveyor. The 25 litre dispense bucket is transported to the blending position, activated by releasing a bar with a pedal. The blending process is activated by the push of a button. On completion of the process, the blending arm automatically withdraws from the bucket and turns to an adjacent container for cleaning of the shaft and blades before blending the next batch.  
The fully automatic system can be integrated with Colorsat Compact dispensers. Empty buckets can be placed on an infeed conveyor. After dispensing, the bucket is automatically transported to the blending position and blended without manual intervention. For assurance of a safe, explosion-free environment for handling solvent inks, the bucket is automatically grounded.
GSE has also introduced a new vapour extraction unit that sucks emissions from solvent inks as they evaporate when the ink is dispensed on the Colorsat Slim and Compact Dispensers. On the Slim, vapour is extracted through holes in the dispense head. On the Compact, vapour is extracted from the back plate of the dispense position.
The company has also introduced the option of modular pre-fab stainless steel piping for transporting ink from the base containers of its ink dispensers to the dispense bucket. As an alternative to flexible hoses, the modular piping can be installed quickly on the print house premises without the need for welding, which carries the risk of explosion in situations with solvent-based inks. 
GSE's Colorsat modular dispensing systems mix and dispense flexo, gravure and screen inks to precise quality and quantity specifications in minutes. Benefits are reduced setup times, ink yield improvements of over 30% thanks to easy re-use of press-return inks, a cleaner colour mixing environment and better stock management. Tailored systems are available for the complete range of package printing situations, for water-based, UV and solvent-based ink sets, from label printing dispensers that provide colours in 1kg – 10kg volumes, to high-volume dispensers for corrugated board and flexible packaging, with up to 34 components.  
Calculating colour
In recent years, software has become an increasingly important element of ink logistics and has become more connective and mobile, thereby automating and accelerating processes, driving costs down and standardising quality.
GSE is supporting further workflow automation, connectivity and easier flow of information in the supply chain with its new software, Ink manager. Its many functions include fast and precise production of spot colours; advanced recycling of press returns including clustering to make new base components; colour corrections after dispensing; easy storage of new colour recipes that are received from the formulation software; real-time stock information; advanced reporting of component usage, returns and orders; consumption cost analysis; tracking and tracing of ink batches through the supply chain to easily pinpoint defects; better workflow management with a job list that separates work preparation and ink production. With web-based functionality and mobile app technology, Ink manager can integrate with cloud services, and communicate remotely with the ink dispenser. 
Ink manager also allows integration of multiple information streams – for example, from software for colour formulation – so all relevant process information can be gathered and read on a single screen. Links with ERP systems enable the exchange of information such as prepared orders, recipes and order data between systems.
Maarten Hummelen, marketing director, GSE, commented, 'In an increasingly service-orientated supply chain, integrated ink logistics – comprising ink dispensing to simplify processes, and software to drive automation – is the lean and smart solution for both waste elimination and quality assurance through the value chain.'  
Standardising ink supply
Fusion Flexibles UK manufacturer of flexible packaging has standardised ink supply across the business with the latest NC Urethane ink system from
Inktech Inks.

Jack Tyler, Fusion Flexibles colour champion inspecting print samples
Installed at the company's plants in Leicester and Nottinghamshire, the company ran several trials using the advanced system which offers more vibrancy along with the latest up to date colour management technology and computerised dispensing from Rexson.
The NC Urethane ink system will offer customers the confidence of knowing repeatability will be managed to within agreed Delta E tolerances, which is well within the range of human visual awareness, by measurement to either Pantone library or a colour standard of their choice.
John Fisher from Fusion Flexibles commented, 'Adopting the new ink system across both sites firmly establishes Fusion Flexibles as one of the country's best flexographic printers for colour management.
'Inktech is highly respected within the industry with experienced staff committed to ensuring Fusion Flexibles is supported across both sites to facilitate future ambitious growth.'
As part of this initiative, Fusion Flexibles has also appointed Jack Tyler as pre-press / colour champion. He will be trained in all aspects of colour management and gain a clear understanding of controlling and filing information to ensure repeatability on all printing projects.
BRC accredited Fusion Flexibles owns a range of high performance production equipment including an eight colour Uteco Onyx flexographic gearless printing press, an eight colour Comexi gearless press, an eight colour Soma Optima flexo press, six extruders and an Uteco Eclipse solventless digital laminator and a variety of converting, slitting and rewinding equipment.