Iconex hails reliability of its splicing systems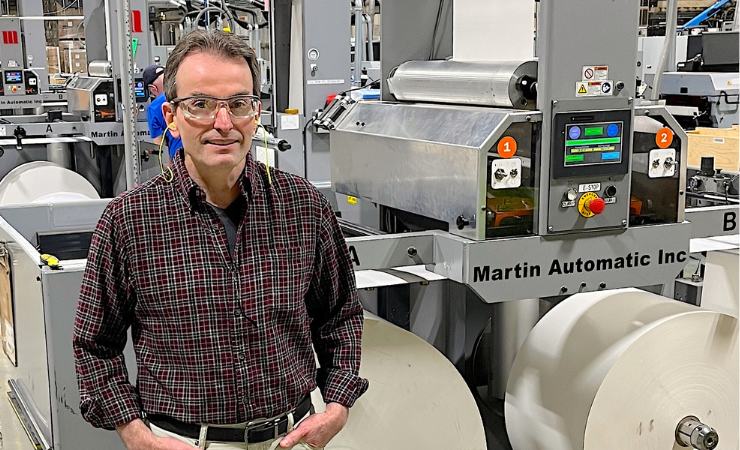 Jim Price at Iconex, with one of its many Martin MBS butt splicing systems
Iconex, the mostly US-based label and receipt manufacturer, has spoken about its experience and benefits gained through using Martin Automatic MBS butt splicers, after installing its 23rd such system.
Over 32 years, Iconex has invested in more than 40 Martin butt splicers of all types across its US and European sites. 'We installed our first Martin butt splicer in 1991 and it still never misses a beat,' said Jim Price, director of technical innovation at the firm. The most recent Martin MBS systems have been for new converting lines installed to support the company's growth in innovative labels, with MBS models fitted to Iconex's ETI Cohesio label lines, with one splicer for face stock and one for liner on each.
After such extensive usage over a long period, Mr Price said that using a Martin splicer on a label press typically reduces waste by 40% and increases production by 12% when compared to presses without automatic splicing.
The Martin splicers are also being appreciated by those using them on a day-to-day basis. Senior operator Edward McLean commented, 'I like how easy it is to manipulate the rolls. The splicer itself is straightforward to set and align the two webs for splicing.  Other than routine maintenance, it needs no attention from me.' Press operator Renea Smith added, 'I'd say it saves five to ten minutes per roll change compared with manual operation and takes me only three minutes to set it up on the line I run.  I found it easy to learn, and there are no issues switching web widths – it's seamless."
The MBS butt splicer is designed to be flexible, with a standard configuration that enables it to handle web widths up to 26 inches and roll diameters of up to 50 inches. It can be customised for different process requirements, running a variety of substrates, from paper to film, laminate and board.