COVID can't stop Silver Fox ringing Nilpeter's bell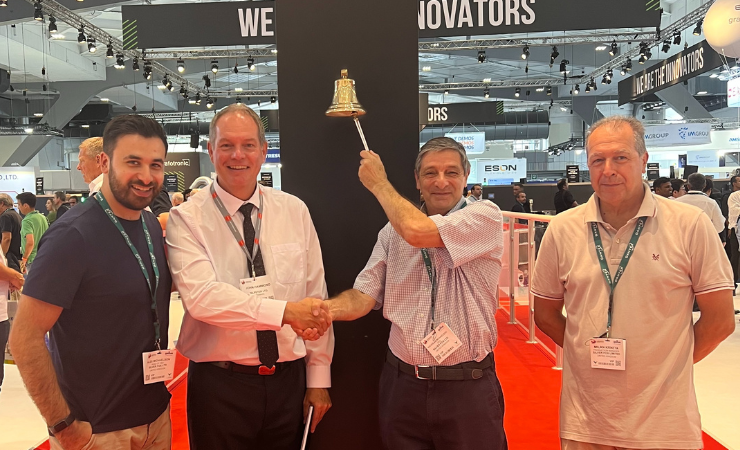 From left: Alex Michaelson (Silver Fox), John Hammond (Nilpeter UK), Nick Michaelson and Milan Krneta (both Silver Fox) at Labelexpo in Brussels
Silver Fox, a leading global manufacturer of cable and equipment labels, put a symbolic cap on its purchase of a Nilpeter flexo press by ringing the company's exhibition stand bell at Labelexpo Europe in Brussels, having gone through the entire purchase process virtually during COVID.
The UK-based family firm took a leap of faith with its first ever flexo press investment, undertaking an online demo of a Nilpeter FB-350 press, with a Factory Acceptance Test taking place virtually from Nilpeter's location in India, where the press was manufactured.
The process led to the decision to invest in a four-colour flexo press with GEW water-cooled LED UV curing and Domino inkjet technology amongst the additional facilities. The press is upgradeable with additional flexo units, if required. Silver Fox said the purchase of the FB-350 has allowed it to expand its product line, producing innovative label types and catering to new sectors.
The COVID restrictions in place during the purchase process meant that Nilpeter UK's John Hammond had his work cut out, and Silver Fox owner and founder Nick Michaelson paid tribute, saying, 'I have to be honest, the effort that John Hammond put forth, combined with his proactive and attentive approach, played a significant role in our decision-making. While equipment and price are crucial, in the end, it also comes down to chemistry and trust – and both were impeccable.'
With the press running in full production at Silver Fox, the relaxation of COVID restrictions saw Labelexpo Europe return last month, and gave the two companies the opportunity to finally meet in person – with the tradition of ringing the bell in celebration a symbolic but important consequence.