Roberts Mart makes big spend on kit and facility to 'future proof' business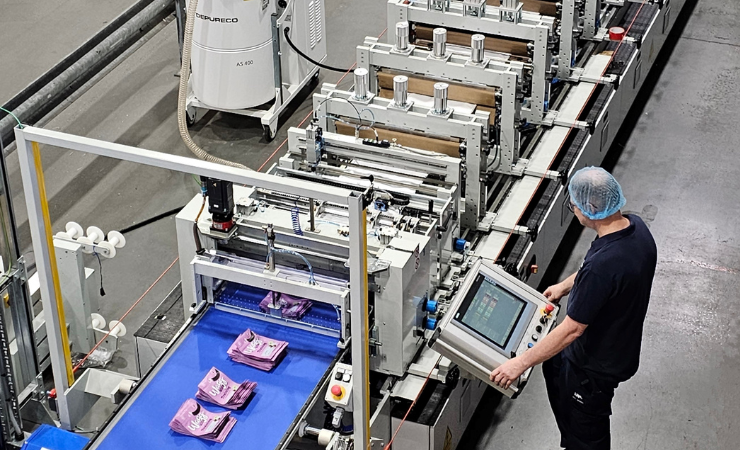 Roberts Mart's Elba pouch machine was installed recently
Major investments in flexo production equipment and expanded warehousing facilities have been announced by Leeds, UK, company Roberts Mart, including a £4 million (€4.65 million) investment in a 10-colour Allstein Hydro press and Comexi slitter.
The 170-year-old packaging business has a turnover of around £45 million (€52.33 million) and said that the new investments will enable it to easily manage an uptake in new contracts.
The Allstein press can run at 500m/min and is fitted with A RUN technology, which minimises set up time and material waste. It replaces an old machine, providing significantly more capacity, and is due to be running by around Easter 2024. The Comexi slitter is equipped with laser technology for microperforation and macroperforation, enabling application versatility, including handling numbering, barcodes, QR codes and security measures that would conventionally be done offline on a flexo press. It should be running in the Roberts Mart factory in December 2023. Earlier this year, the company also installed a new Elba pouch machine.
An even bigger investment of £7 million (€8.14 million) is being made in the construction of a new single storey warehouse extension to the main Roberts Mart building, which will include an extension to the company's ink store too. Roberts Mart expects this building work to be completed towards the end of summer 2024.
'Investing in the future of the business is crucial and these recent developments will allow us to operate even more efficiently, future-proof our business and better support our growing customer base,' said managing director, William Roberts. He added that equipment investments would 'support our sustainable goals, reducing waste and our carbon footprint wherever we can'.