Polish flexo association joins FTA Europe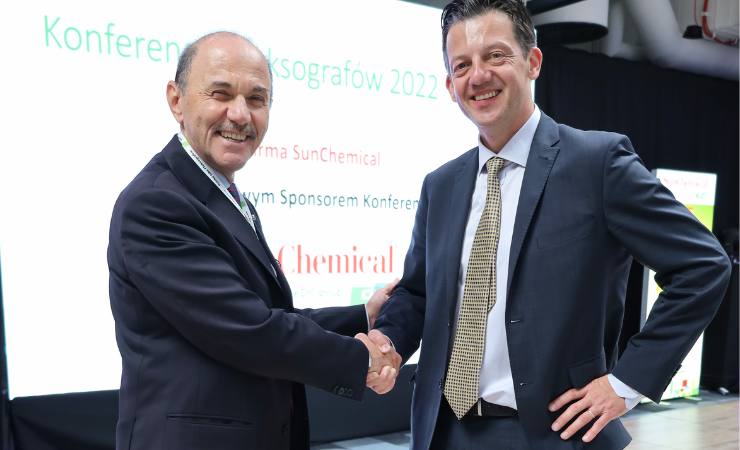 FTA Europe president Sante Conselvan (left) welcomes Krzysztof Skrobot from the PLFTA
The Polish Chamber of Flexographers (PLFTA) has joined FTA Europe, becoming the association's eighth member association.
PLFTA includes printing houses, corrugated board manufacturers, and suppliers of machine components and software within its membership, and says it is committed to changing the negative perception of the flexographic industry and achieving net-zero greenhouse gas emissions by 2050. It is working to educate young people and future professionals about these advancements.
By joining FTA Europe, the chamber said it 'expects to speak a common language, cooperate, and exchange information to overcome challenges and achieve its goals'.
'Joining FTA Europe will allow us to exchange knowledge and experience, improve the level of flexographic knowledge through conferences, seminars, and training, influence printing school education, and network with similar organizations abroad,' said Krzysztof Skrobot, director of the PLFTA. 'The future of our industry is closely related to all aspects of environmental protection, and we are committed to adapting to the principles of the European Green Deal and achieving net-zero greenhouse gas emissions by 2050.'
The news was welcomed by FTA Europe president Sante Conselvan, who said, 'We are thrilled to welcome the Polish Chamber of Flexographers to FTA Europe. We believe that knowledge exchange and collaboration are key to fostering innovation and meeting environmental challenges. We look forward to working with the Polish Chamber of Flexographers to make a positive impact on the planet and foster the growth of the flexo industry.'
The seven existing FTA Europe members are: ATF Flexo (France), ATIF (Italy), ATEF (Spain), FIA UK, EFTA Benelux, Sweflex, and Grakom (Denmark).