Reflex Group installs new Nilpeter 10-colour press in UK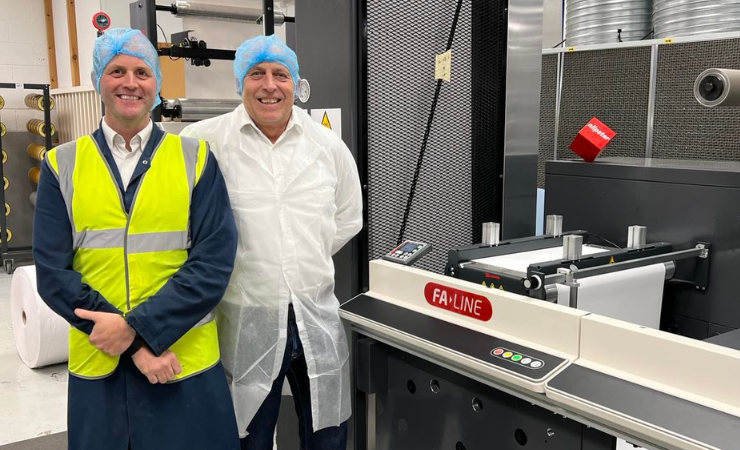 Shaun Hanson (left), site manager of Reflex Group's Keighley factory, with Nilpeter Ltd managing director Nick Hughes
Reflex Plus, part of the multi-site Reflex Group, is producing work on a new 10-colour 560mm-wide Nilpeter FA-22 flexo press at its Keighley site in England. It comes with a range of features, including an advanced automation package, advanced drying technology, a UV-laminating unit, cold-foil equipment, RSI Nilscreen printing unit, a flatbed embossing/hotfoil unit, a die-cutting unit, waste handling, and a video inspection system.
These features will serve to make production faster and easier, as well as reducing waste during set up, the company said. The range of embellishment techniques included in-line means that Reflex can produce high-end, value-added labels for its clients in the wine, beer and liquor sectors.
'We know the Nilpeter machines very well, and we have worked with their team for many years,' said Shaun Hanson, site manager at the Keighley plant. 'This new press can produce almost everything, and it is a true beverage combination press that gives us the flexibility and dynamics we need in our production setup.'
Nilpeter said its FA-Line presses are 'built around the modern printing operator, with an intuitive user interface and fully mobile print controls', allied to tight register tolerance, and 'excellent' printing results on multiple substrates.
Nick Hughes, managing director at Nilpeter Ltd, commented, 'Reflex Group has integrated this press completely into its existing production setup, and it looks great. It runs like a train. We know that Reflex Group has a huge focus on sustainability, and with this new press they use less energy to run the machine, and they have a lot less waste, especially around the double foil save. We have built a solution that fits perfectly with their business and needs, and that's what it's all about.'
Reflex Group was formed in 2002, with sustainability at the heart of its objectives. It has operations in the UK, Ireland, Norway, Sweden, Poland, and Australia, and serves a broad range of customer sectors with products such as self-adhesive labels, shrink sleeves, liner-less labels, flexible packaging, in-mould labels, artwork, and design.