'Flex-On-Road' events to extend worldwide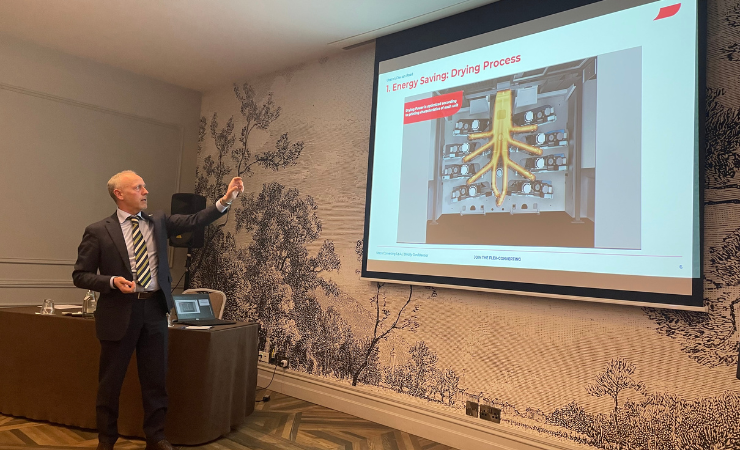 Uteco's Ettore Roina kicks off the Flex-On-Road event
Uteco Converting's recent multi-partner 'Flex-On-Road' roadshow events in the UK and Ireland have been hailed a success by its organisers, with a number of further events scheduled to take place around the world this year.
Mike Attard, managing director of equipment supplier Eurograv, said there was a 'notable turnout of printers and converters' to the Manchester and Dublin events, who were 'eager to familiarise themselves with emerging technologies and current market conditions'.
He said, 'Of particular interest to printers was the potential for energy conservation and strategies to maximise production efficiency, minimise bottlenecks, and optimise returns on investment. Our guests also recognised that presentations on sustainability and health and safety could enhance their relationships with customers and positively impact internal processes.'
Uteco's Ettore Roina led the way with the presentations, articulating that 'sustainability is core when designing and engineering flexo presses'. Issues such as energy consumption, material waste and operator safety and ergonomics were key aspects of this session.
Among the partners who also participated were Cason, which discussed the latest version of its Innova Matic Evolution slitter/rewinder, Gama International on the benefits of ink control (including viscosity and temperature), prepress company Reproflex3 talking about the importance of its communication, technology and service offering for the supply chain, and sleeve manufacturer Rossini on its product range.
Camis discussed the importance of selecting the right plate mounting system, LaserClean advocated the advantages of cleaning rollers with laser technology, and DW Renzmann presented solutions for washing printing machines and ink making equipment, and distillation equipment for wash solvents and flexo platemaking solvents.
Mr Attard told FlexoTech that the roadshow event will travel to many additional countries this year, naming Argentina, Australia, Canada, Chile, Germany, Jordan, Mexico, Poland, South Korea, Thailand, Turkey and UAE.