Converters take the lead at FINAT Awards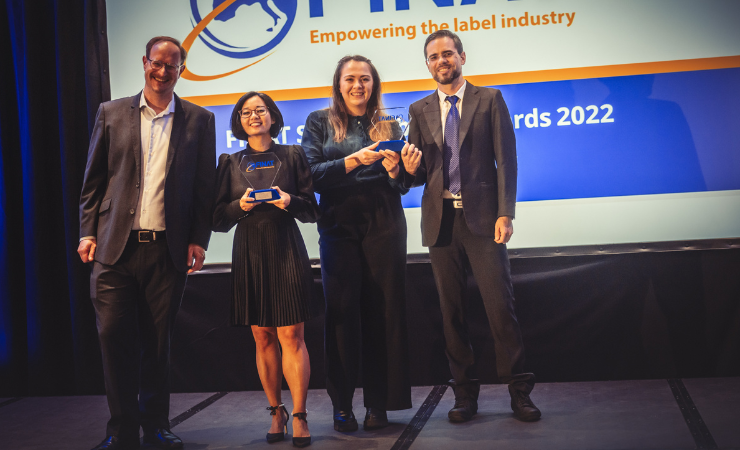 Pablo Englebienne (FINAT), Chen Yan (All4Labels), Vanessa Mitterer and Gregor Kitzberger (Securikett)
Securitkett Ulrich and All4Labels won big at the Finat Sustainability Awards in Barcelona.
The event recognises the efforts of the self-adhesive label industry to increase sustainability. This year five initiatives were entered in the competition, covering innovative paper-based labels, renewable energy generation, decorations optimized for environmental impact, and compostable flexible packaging.
The jury, consisting of Jacques van Leeuwen and Rosalyn Bandy, judged the submitted data for their demonstration of improved environmental and social impact, achievements, relevance, cooperation along the value chain and overall uniqueness.
The jury decided to award two initiatives among the received ones, in the categories of Converter Small & Medium, and Converter Large.
Securikett Ulrich & Horn won in the category of 'converter small and medium' with their entry 'It's Paper' series– Void Labels and Void Tapes.
The initiative was prized by the jury for incorporating renewable content, contributing to the recyclability of packaging including security features, and for providing a unique solution that replaces film with fibre-based materials.
All4Labels with its initiative Starshine took over the converter large category. The jury was impressed with the reduced environmental impact of the products, including a reduction of use of hazardous materials, reduced energy consumption and the elimination of plastic filmic materials required for the process.
Finat regulatory and sustainability affairs manager Pablo Englebienne, said, 'We were pleased to receive diverse initiatives from suppliers and converters of all sizes, showcasing how sustainability is in everyone's mind. In this year with so many other issues affecting businesses, such as supply shortages and ever-increasing energy costs, it is refreshing to see that sustainability still plays a major role in the development of products and services in the self-adhesive value chain. We look forward to seeing more initiatives from our members in the next edition of the awards in 2023.'