Encore opts for new Expertfold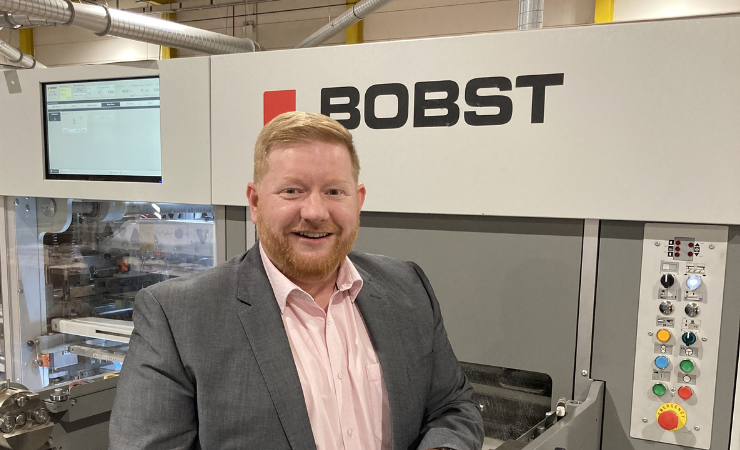 Encore has invested in its fourth Bobst machine
Encore Packaging Solutions has invested in the new Expertfold 110 A2 – a folder-gluer machine.
The company already uses three Bobst machines, including two die-cutters – the Novacut 106 ER and Novacut 106 E – and another folder-gluer Visionfold 110 A2 and Handypack GT, a semi-automatic collecting table to assist end-of-line operators pack finished cartons into transport containers.
Craig Allen, sales director at Encore Packaging Solutions, said, 'The Expertfold purchase is another great demonstration of our commitment to investing in the business and our local area. We have a successful apprenticeship programme in operation to nurture new talent in the packaging industry and seek to have the best equipment and machinery in place to support that.'
According to Encore, the Expertfold 110 A2 is a versatile folder-gluer which enables manufacturers to produce a wide variety of box styles in a range of materials. It has speeds of up to 450 meters per minute as well as short make-ready times. Expertfold can be fitted with peripherals and devices to boost productivity even further and ensure it can adapt to future business requirements.
The company opted to add the latest Easyfeeder 4, along with Cartonpack 4 to the Expertfold 110 A2. The company is the first independent company in the UK to install this technology.
Easyfeeder ensures a smooth and steady feeding of the blanks, while Cartonpack 4 packs glued cartons automatically, enabling the folder-gluer to run at maximum speed without being slowed down by manual packing.
Mr Allen added, 'Cartonpack is already proving a gamechanger for us. Throughput is faster and more efficient. It's an impressive piece of kit for a growing business like ours.'
Lee Alton, area sales manager for Bobst, said, 'It is fantastic to once again be able to provide a new machine line to Encore and to be part of their success story.'