New editor takes the helm at FlexoTech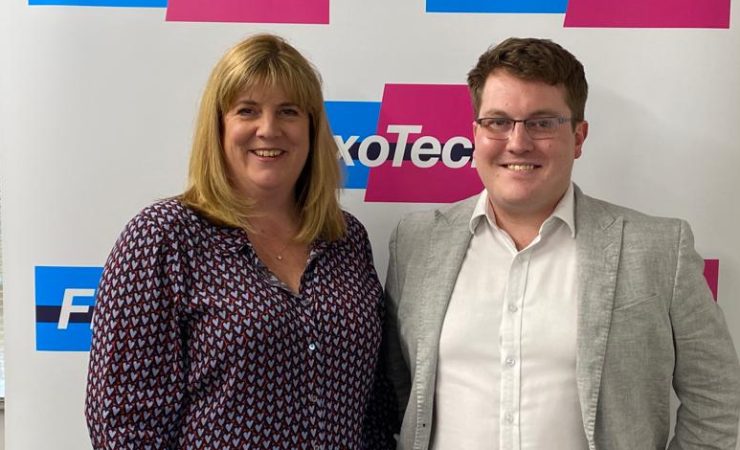 Lindsey Pearson (Left) with new FlexoTech editor Charlie Kortens
Charlie Kortens has been appointed as the new editor of FlexoTech, replacing Michal Lodej, who is moving onto another role outside of the printing industry.
Mr Kortens has been with Whitmar Publications since 2018, serving as assistant editor across FlexoTech, Digital Printer and Digital Labels & Packaging, as well editing the Digital Textile Printer website and e-newsletter, launched in 2021.
Whitmar's managing director Lindsey Pearson commented, 'I'd like to thank Michal for all his hard work over the years. It's been a real pleasure to work with him and I know he's become both a popular and respected figure in our industry.
'I am delighted that Charlie will be taking on this extra responsibility. It's nice to have the opportunity to promote from within and I have no doubt that he will rise to the challenge and take FlexoTech in new and interesting directions.'
Outgoing editor Mr Lodej added, 'Whitmar Publications was my first real job in journalism and proved to be a fantastic opportunity for my career. I learnt far more in the roles I have held at Whitmar than I did in any University module, and have met some wonderful people, who are truly passionate about what they do. I will always have fond memories of being here and of the printing industry in general.'
Mr Kortens concluded, 'I am delighted that Lindsey has trusted me with this opportunity and I can't wait to get started. FlexoTech and the FlexoTech awards are an important part of the industry and Michal has left a great platform to build on.'
You can contact Mr Kortens regarding flexo industry news, FlexoTech magazine, or the FlexoTech Awards at charlie.k@whitmar.co.uk or via 01892 501385.