Siegwerk snaps up La Sorgente Spa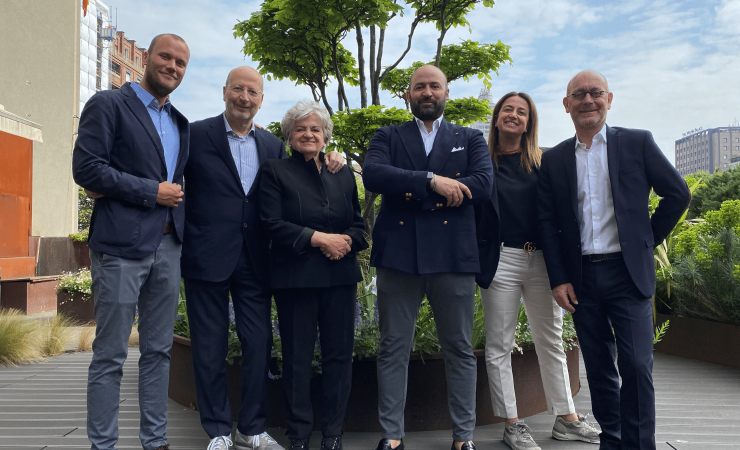 Siegwerk's Christopher van Laack (far left) and David Charquet (far right) flanking Mario, Carla, Francesco and Federica Magni of La Sorgente Spa
Siegwerk has reached an agreement to purchase Italian ink manufacturer La Sorgente Spa. Founded in 1929, La Sorgente Spa is a family-run company based in the province of Arezzo. It manufactures high-quality water-based flexographic inks for paper and board applications as well as solvent-based inks for flexible packaging. 
The acquisition sees Siegwerk, one of the leading international suppliers of printing inks for packaging applications and labels, expand its product portfolio for packaging printers whilst also strengthening its footprint in the Italian market. Dirk Weißenfeldt, the company's vice president of flexible packaging for the EMEA region, explained, 'La Sorgente Spa is a well-established ink expert for paper and board as well as flexible packaging applications with a strong reputation in Italy. Its ink solutions fit perfectly into our product portfolio.'
The move, which follows other strategic investments Siegwerk has made in recent years to enhance its position as a full-range provider of inks for the packaging market, will allow the company to build up its infrastructure and workforce to further grow in Italy. Both parties have agreed not to disclose the financial details of the agreement. 
Under the terms of the takeover agreement La Sorgente Spa will remain a separate entity, maintaining its own brand and product names, and managed by the Magni family. Siegwerk will continue to produce and serve customers from the production site in Poppi but all technical expertise, product portfolio and manufacturing equipment belonging to La Sorgente Spa will be transferred to the German firm.
'The integration of the acquired products into Siegwerk's ink offering will enable customers to benefit from a more comprehensive product portfolio and a wider technological expertise,' said Christopher van Laack, Siegwerk's vice president of paper and board for EMEA and liquid food packaging.
Mario Magni, owner and chairnan at La Sorgente Spa, added, 'We are delighted to have found in Siegwerk a great partner and new owner for our company. Siegwerk will integrate our inks into a significantly larger organisation thus advancing our current products on the global market.'