Korean printer makes move to flexo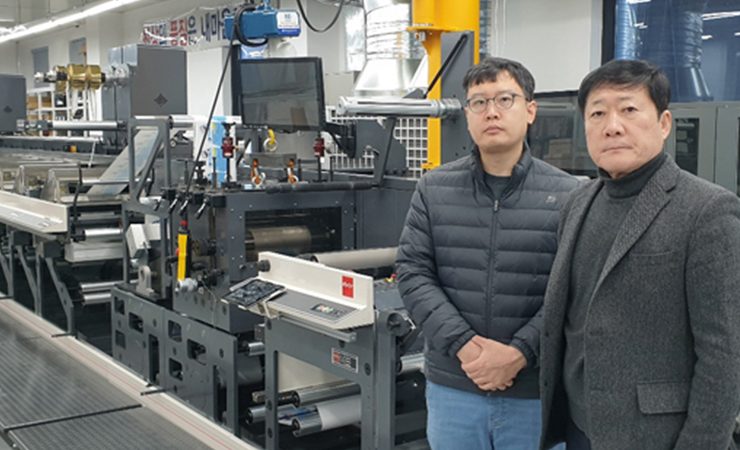 Space was one of the considerations for Wave TPS when planning its move into flexo printing
Seoul-based printer Wave Total Printing Solutions (Wave TPS) has installed its very first flexo press, with a Nilpeter FA-17 specified in order to allow the South Korean business to transition from letterpress to flexo printing.
Built with the press operator in mind – with an intuitive user interface and fully mobile print controls –, Nilpeter's FA-Line is claimed to provide a maximum level of stability, tight register tolerance, and 'excellent' printing results on multiple substrates. All normal self-adhesive materials, including flexible packaging films, polymer films, metallic films and paper, can be run down the line. Lightweight, easy-load sleeves allow for reduced set-up times, easy handling, increased production speeds, higher printing quality, and durability, as well as a lower cost per label.
Lee Cha Woon, president at Wave TPS, said, 'We looked at every high-quality flexo press in the market today, before deciding to go with Nilpeter. As this is our first flexo press, we had many concerns and doubts and wanted to go for the absolute best available to move our company forward.
'At the end of the day, three main factors made us decide to go with Nilpeter. First, the solid expertise and patience of Nilpeter's sales and application experts that helped us with everything from selecting the right configuration, to preparing the transition from letterpress to flexo, as well as with application training capabilities. This has ensured us that Nilpeter was the only right partner to choose. Second, due to our site being in Seoul, we had to consider the space for our press. Nilpeter's state-of-the-art design allowed us to both utilise and maximise our existing floor space. In addition, the automation features and control-by-wire functionalities have impressed us like no other machine available in today's market.'
Mr Woon continued, 'Finally, the expansion capabilities of the FA-Line were crucial. We wanted to make sure that our operators, design team, and sales employees would get used to flexo technology first before purchasing further press embellishments. Nilpeter was the only press manufacturer that allowed expansion of the press after installation, in a way that best fits our organisation.'