Ability DG adds Kongsberg C64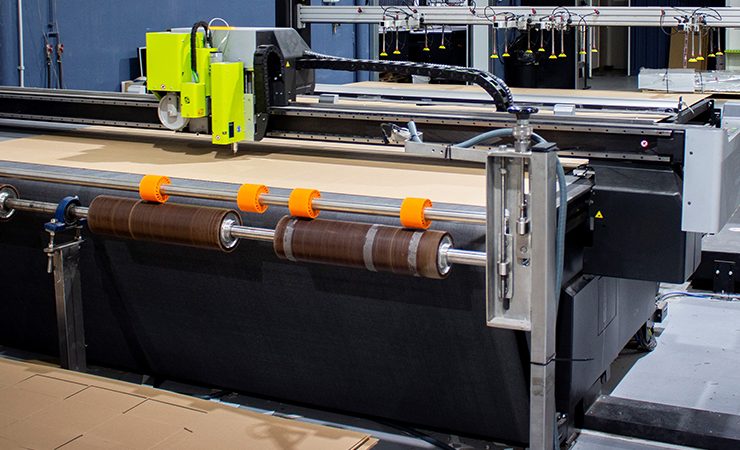 Ability DG has now installed a Kongsberg C64 table with automated feeder and stacker
Spain-based POS and packaging manufacturer Ability Diseño Gráfico (Ability DG) has added a third Kongsberg digital finishing system, with a C64 cutting table added to boost the converter's productivity and efficiency.
With more than 20 years of experience, the company is renowned for its use of high-quality large format flexo and digital printing. Already using the Kongsberg XP44 and Kongsberg C60 cutting table, the company has now installed a Kongsberg C64 table with automated feeder and stacker. A new feeder unit has also been added to its existing digital finishing set-up. These additions are intended to boost productivity and efficiency at Ability DG's state-of-the-art facility in Murcia, Spain.
José López Martínez, director general at Ability DG, commented, 'At Ability DG we are committed to improving our equipment. We are delighted to invest in the Kongsberg feeder and stacker solution, as it is the most advanced modular solution on the market for handling cardboard materials. With its total automation, we can speed up our production and increase our efficiency by removing some of the manual steps that are not only time consuming but can also lead to errors.
'Having used Kongsberg equipment for a number of years, we already know how it provides quality results, with reliable accuracy and efficiency. This third cutting table and automated feeder and stacker will help us to continue growing and further improve the service to our customers.
'The addition of the Kongsberg C64 with feeder and stacker means we can eliminate the chance of any damage to the cardboard while it is moving along or from the cutting table. Thanks to its full automation, the C64 registers and cuts quickly, and then deposits material on the pallet with perfect stacking alignment to ensure consistent production with the next step in the workflow.'
Amadeu Maurel, territory sales manager at Kongsberg PCS, said, 'The C Series is renowned for delivering the very highest levels of performance, With advanced, rock-solid engineering and aerospace technology, the C64 combines an aluminium composite tabletop, a rack and pinion drive system and dynamic table mapping for optimum results. The new table is served by the feeder and stacker, a pallet-to-pallet solution that enables Ability DG to significantly increase productivity. With its stack height and quick automatic load cycles, it is the optimal solution for short run production on all typical packaging and display materials and can easily cope with the variety of materials that the Ability team works with.
'The impressive stack height and quick automatic load cycles makes short run production of a wide variety of materials simple, while the underside camera – which scans each sheet from below, on the print side – automatically locates the registration marks, barcodes and the corner of the sheet. This can save the operator as much as thirty minutes on each set up, boosting productivity without compromising on quality.'
For Ability DG, this has been evidenced by Mr Martínez noting, 'We always say that quality, productivity and elimination of risk are the points that we like to improve the most at Ability. The Kongsberg automatic plate feeding and unloading system gives the assurance that printed material moves to the cutting table with the highest precision, which is the standard we love.
'Not only that, but the multi-zone production allows two sheets to be loaded simultaneously, maximizing production capacity on the Kongsberg table, without the need for costly additions for automation. The multi-zone operation mode allows the operator to prepare one zone, while the table processes the other, with automatic change when a zone is completed. This dramatically increases productivity and performance.'