Flexolahti improves productivity with CDI Crystal 5080 XPS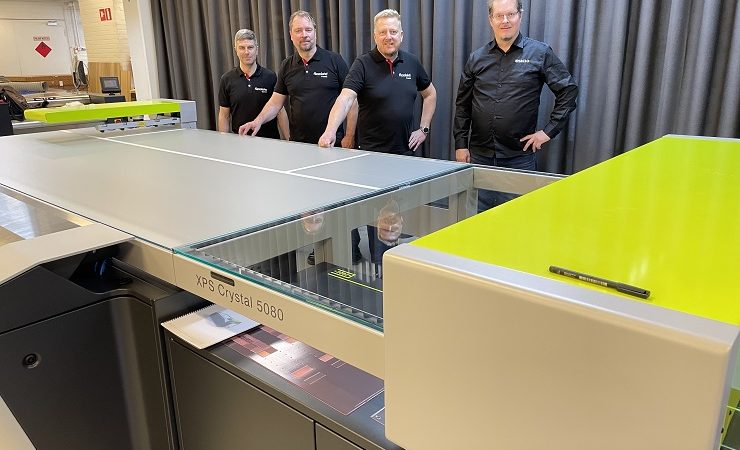 (L-R) Flexolahti plate operator Olli Sinkkonen, foreman Timo Illukka and plate operator Tommi Laitinen with Esko technician Ilkka Vilmi and the Esko CDI Crystal 5080 XPS
Finnish reprographic services provider, Flexolahti, is benefiting from improved plate consistency and productivity after investing in a CDI Crystal 5080 XPS with PlateHandler from Esko.
The new investments have gone to the company's platemaking facility in Lahti. Flexolahti serves a growing number of printing houses and brand customers across the Nordic region, as well as further afield, with ever-changing customer demands that require a fast response, and accurate results.
Ishu Khurana, Esko territory sales manager for the Nordics region, said, 'Adding our innovative plate imaging and exposure hardware to an already impressive setup now enables Flexolahti to both increase its productivity while ensuring the quality of the plate and resultant print quality is maximized. Using the latest technology in terms of improved simplicity and optimized quality, they also enjoy the added benefit of full Esko support in training, maintenance and troubleshooting.'
Combining UV main and back exposure, the award-winning Esko XPS Crystal exposure unit uses LEDs which do not require warm-up time and emit consistently stable light, producing excellent consistency of plate quality. Further driving productivity is the Automation Engine Automated Flexo Platemaking module, which removes the need to manually crop and extend LEN files and enables a fully automated platemaking workflow, from a ripped LEN file all the way to the exposed flexo plate on the CDI.
Kai Tornikoski, managing director of Flexolahti, said, 'We have been working with Esko solutions for many years, ensuring that everything from structural design to prepress editing is handled as efficiently as possible while delivering the best results for our customer base. This latest investment not only ensures we can continue delivering plates of the highest quality, but also enables us to increase our productivity, producing more plates in less time and having the flexibility to respond to the ever-changing needs of our customers.
'This will of course be particularly valuable to us with regards meeting the demands of those urgent, short runs with shorter lead times, but also on longer runs where consistency is key. With our complete Esko ecosystem of integrated solutions already in place, we are delighted to have been able to install the CDI Crystal 5080 XPS into our platemaking setup.'