GEW selects distributor for Iberia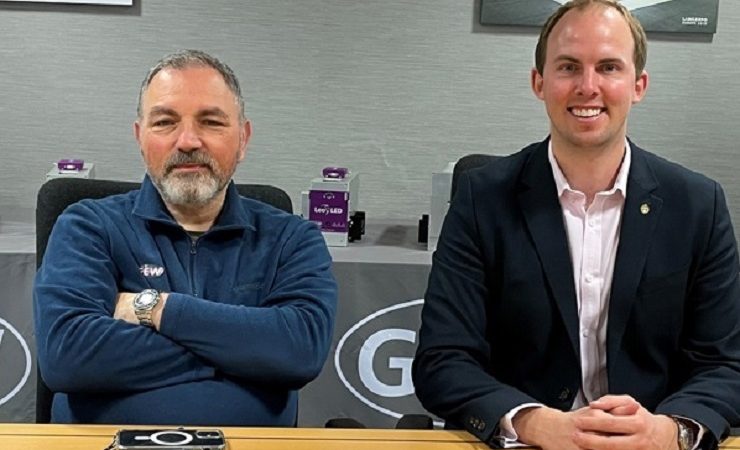 Franco Pagano and Robert Rae of GEW.
GEW UV curing systems has selected a new official distributor to represent the company across Spain and Portugal, Grupo Impryma.
With offices in both Madrid and Barcelona, Impryma are ideally situated to manage the region for all GEW UV systems, spare parts and services. Headed by Félix Prieto as director general, the 18-strong team at Impryma have built up an outstanding reputation for their depth of experience and expertise in the field of narrow web printing
Mr Prieto explained, 'Without a doubt, our strength is in our people and the combined experience of our team, most of which have been with us since our very early days. Around a third of our people are dedicated to customer servicing, which demonstrates our aim to ensure that they, our customers, are 100% satisfied at all times. We are delighted to now be working together with GEW. After all, they are the leading name in UV systems and a name that any distributor would be proud to represent.'
Robert Rae, managing director of sales at GEW, is keen to highlight the practical benefits of the new appointment to customers in the region, he said, 'The partnership will significantly expand and improve GEW services in Spain & Portugal. It will enable us to offer more competitive pricing and to reduce lead times on spare parts, as a large stock will be held locally by Impryma. This will also remove the need for the extra administration and costs that were brought on by the Brexit situation.'
Mr Rae continued, 'We can also offer faster on-site service support with more engineers covering the region, and UV cassettes can be serviced at Impryma's repair centre or direct on site. Additionally, we can offer very competitive rates to printers who are looking to retrofit their press with UV LED." He concludes: "GEW's Sales Manager for Southern Europe, Franco Pagano, will continue to support customers alongside Impryma. He will visit the region frequently and we look forward to strengthening relationships once more, as Europe recovers from the past tumultuous 18 months.'
Established in 1984, the company has specialised in working within the label printing industry for the past 25 years and has been installing and servicing UV systems throughout this time. The Impryma Group now represents a number of leading brand partners in Spain and Portugal, including Lombardi and Cartes.