Contact Originators enhances flexo plate production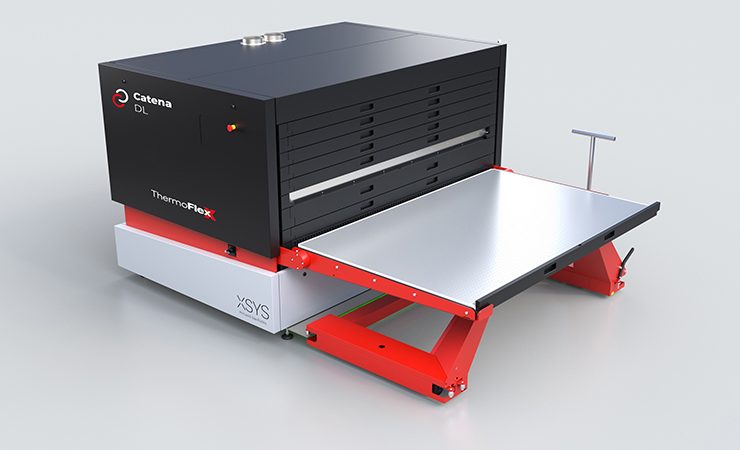 Two Catena DL dryer/light finishers installed have six dryer sections, with individually controlled temperature and ventilation
Contact Originators has continued to invest in flexo platemaking technology for its new Manchester site, with the installation of XSYS ThermoFlexX Catena plate washing and drying/light finisher technology.
This has seen it commission two Catena W-80 wash-out units for flexo plates, and which is designed for maximum productivity owing to a shorter plate sequence, automated plate alignment control and automatic pin-bar transportation. Two Catena DL dryer/light finishers installed have six dryer sections, with individually controlled temperature and ventilation.
Located in a 32,500sqft super site in Dukinfield, the company's new facility is now equipped for streamlined flexographic prepress and plate processing.
Contact Originators group CEO Steve Mulcahy explained, 'We have a well-established relationship with XSYS, and following our experience with its ThermoFlexX Catena DL dryer/light finisher, we had no reservations in making a long-term commitment to using the technology to optimise our plate production at the new site.
'The Catena equipment is a perfect fit for our state-of-the-art facility, enabling semi-automated plate washing, drying/light finishing, maximising throughput, minimising errors and ensuring the highest quality plates.'
Paul Campbell, XSYS sales director, Northern Europe and EMEA, explained how Contact Originators had first trialled the equipment following a well-documented fire at its Bredbury site in 2020. 'Within days of the fire,' he said, 'we had set up a plate wash-out processor and a Catena DL from our test centre in Stuttgart. The equipment was installed, operators trained and were up and running within days.
'When the pandemic hit, Steve was already well into planning the move to the new facility, so by the end of the year we had shaken hands on the deal to supply two new Catena W-80 washers and two Catena DL dryer/light finishers.'
Mr Campbell continued, 'We've worked with Steve and the team for many years now, and our supplying Contact Originators at the new super site offers real potential for collective growth. There's capacity for significant volume of material there, they really have the facility to grow, and if they're successful, then we are too.'