DuPont launches plate and processor range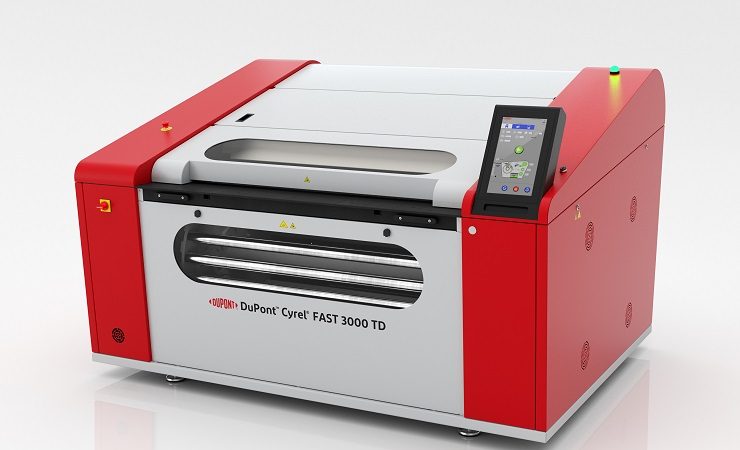 Using virtual.drupa as a launch pad, DuPont has unveiled its Cyrel EASY R plates range and Cyrel FAST 3000 TD flexo platemaking system.
Cyrel EASY R is range that keeps the benefits of Cyrel EASY flat top dot photopolymer plates while adding on new attributes to help improve plate handling and on-press performance for flexible packaging and tag & label applications. The plate range is comprised of photopolymer plates suited for thermal and solvent development and come with smooth or structured surface to provide the best match for a large variety of print conditions.
Cyrel EASY R offers increased dot robustness for high resolution, reliable long-run print consistency as well as great ink transfer and superb print quality on a wide variety of substrates.
Liming Zhu, general manager of Jielong Art Printing, said 'The EASY R plates enabled us to maintain a high level of customer satisfaction because the EFXR plates have a great performance on dot, line and ink transfer.'
The Cyrel FAST 3000 TD system is the latest addition to the range of solvent-free flexographic plate processors at sizes up to 50×80 inches.
By eliminating the use of solvents – including water – from the platemaking process, the company says that the Cyrel FAST 3000 TD system produces maximum-sized plates that require no drying time and can be prepared in under 30 minutes. With the same efficiency as other Cyrel FAST systems, the 3000 TD offers flexible packaging customers and other users with large-sized jobs and high productivity needs a platemaking solution that helps reduce downtime, energy consumption, and environmental footprint.
Tucker Norton, global business leader for Cyrel Solutions, said, 'DuPont is very excited to showcase the many advantages of the innovative Cyrel EASY R formulations and Cyrel FAST 3000 TD processing system at drupa 2021. Although this year's show is entirely virtual, we look forward to showing our customers and industry colleagues the powerful performance, time and cost savings, and environmental benefits of the expanded Cyrel portfolio.'