Esko launches raft of product updates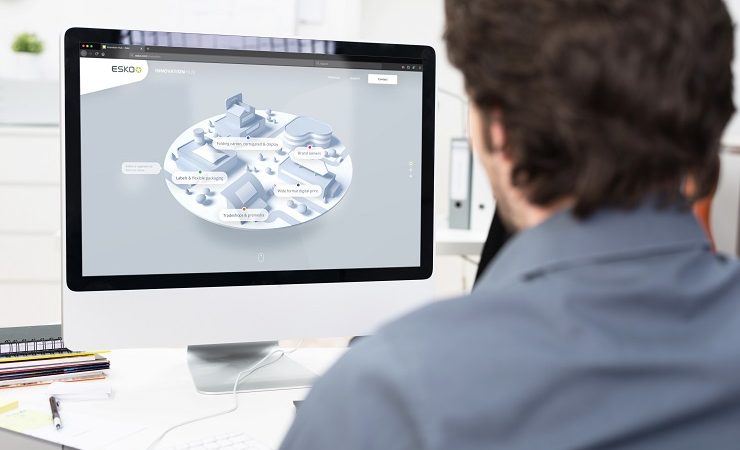 Additional features have been added to Esko's products with updated versions of ArtPro+and WebCenter set for release in the summer months.
ArtPro+ is due to be released June 15 with improved trapping functionality, with a state of the art trapping engine traps jobs 80% faster, the new feature is a static feature look at the features and make decisions on the type of object that it is. The software can re-trap jobs, without interventions.  Not relying solely on luminosity, this improves the result. Changes to trapping are so robust that changes can be made to the design and the traps integrity remains.
A new tool for shrink sleeves helps to relieve pressure on what tends to be tend to be resource intensive part of pre-press. Switching between before and after grids is time consuming and requires a lot of skill from the operator.
This tool imports objects from other 3D simulations and can make a model of the shape for the label. It can zoom in and navigate in 3D and apply pre-distortion until the label looks like it should. It removes the iterative process while still keeping the file fully editable.
Final update for  ArtPro+ is the PlateCut tool for improving the efficiency in platemaking by maximising the designs imaged on a plate. With staggered plates the aim is to make sure an endless form to is laid to prevent the plate from bouncing, however making plate cut paths is time consuming and a highly skilled jobs. The tool uses an algorithm which calculates how to achieve the optimum cutting path with a  target of creating rectangular plates as often as possible.  
Also updated is the company's asset management program, WebCenter 20 which is due to be released in August. Users can see all information for a job in one page. Work can be seen and redistributed quickly among team members. It comes with a forward approval function to non-registered users speeding up the approval chain.
Once approved the file needs to be need to ripped for platemaking, and Web Center 20 comes with a print control wizard, which can analyse a test forme to create the best combination of dot gain curves and screens for that particular print condition.
This wizard reduces the analysis from one hour to 20mins. Also new is a white ink wizard, to help reduce cost for an expensive consumable in packaging. The wizard calculates the ideal opacity and helps pin holing removal. It creates a special test chart for white ink to analyse the result and apply the best screening and dot gain curve. Also new are screens for UV ins and coatings
New in the corrugated segment is an improved optics for the company's plate maker, Optics 100V2.
These are a buying option when purchasing a CDI,  and the company claims this is the fastest single head optics on the market and can output 10 sqm/hr for corrugated plates.
With this upgrade, the speed of the CDI is increased by 25% when producing full plates. The case with partial plates however productivity is doubled. Because the laser is faster the drum doesn't need to spin as fast, and so there is no need to tape the plate to the cylinder, this provides huge productivity gains.
Esko alsounveiled its Innovation Hub designed to provide users with the ability to explore the company's portfolio of new and upgraded products in a virtual environment.
The hub enables users to navigate around the latest hardware and software innovations from Esko, in their own time, learning ways to boost business productivity, efficiency and profitability
'The huge challenges we've all faced as a sector this year motivates and drives Esko to continue developing and releasing new and improved solutions to ensure our customers remain at the forefront of innovation gains,' said Jan De Roeck, Esko director of marketing, industry relations and strategy.
'The packaging and label industry is extremely challenged today and is core to the successful operation of many critical supply chains around the world. In the absence of key events to showcase our latest innovations to support our customers, we have extended our web presence with a unique approach to interacting with our customers. The Esko Innovation Hub ensures continuous access to relevant and timely information about the latest technologies, tools and solutions we are making available in the coming weeks,' said Mr De Roeck.
The hub gives users the chance to enjoy a segment-specific perspective on the latest technology, while exploring a virtual demonstration environment.
'As users navigate the virtual tour, special "hotspots" take them to curated product videos and presentations, ensuring they can access pertinent information specifically relevant to the application market in which they operate,' explained Mr De Roeck. 'From labels and flexible packaging through to paperboard packaging, pre-media trade shops and wide format applications, we showcase bespoke solutions so that each visitor has the most beneficial and valuable experience.'
'Users will be given exclusive previews of Esko Software 20, including ArtPro+ 20.0, WebCenter 20.0  and Print Control Wizard 20.0. Together with hardware innovations like the new Optics 100v2 for our CDI flexo platemaking solution, we have a significant number of cutting-edge product launches scheduled for 2020 to further reinforce our commitment to digitising, automation and connecting our customers,' concluded Mr De Roeck.