MRE trusts in UV-LED production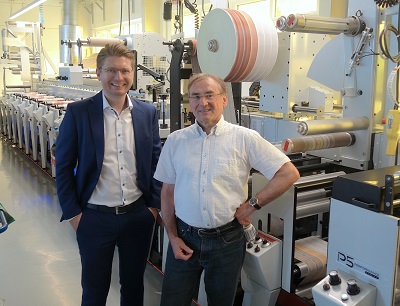 Mark Andy's Timo Donati with MRE's Klaus-Dieter Rust and the new UV-LED equipped P5
Mehner & Rust Etiketten (MRE), based in Lichtentanne, Germany, has installed a Mark Andy Performance Series P5 press with an UV-LED set-up, the first in the country to do so.
The new P5 is a 330mm model with eight Pro-LED UV print stations, a Gizmo, three die stations and a sheeting unit. The UV-LED system offered came with full support and training from the three constituent manufacturers, Mark Andy, Phoseon Technology and Flint Group Narrow Web . 'We were really impressed with the assistance and tuition we received, from how best to plan the work, up to the daily operation of the system,' said Klaus-Dieter Rust, co-owner.
'From the time we ran print trials at the Mark Andy demonstration facility in Warsaw, we were convinced that LED was the way ahead, and having had the press in use at our own plant I can state that it was clearly the right move for us – in fact, it's capability has already attracted new work from customers who were experiencing curing issues with varnish,' he added.
The P5 has replaced three older presses and added capacity, at the same time as reducing energy costs by 50%. The company has also had to rethink its pre-press and plate technology as well as sourcing new substrates suppliers.
Like all new technology, there is a learning curve, however according to Mr Rust, his operators all find the P5 easy to manage, despite the fact that average speeds have increased by a factor of five.
'It has great ergonomics, which makes it a real operator's press, and it's very functional and logical, which means that we have been able to slash delivery times,' he explained. 'We're also getting requests from ink, varnish, and substrates suppliers to run tests on the P5, and we're achieving great results with metallics.'
The majority of MRE's work is currently for the food, chemical, automotive and transport industries of the the German, Czech, and Benelux markets, with typical run lengths on the P5 of 1000–3000 metres. 'As run lengths decline and substrate prices continue to rise, the P5's ability to reduce waste with its short web path and get jobs on and off quickly is critical. Water-wash plates make it an eco-friendly press with a low carbon footprint, which is something our customers love to trade on,' said Mr Rust.
Timo Donati with MRE's Klaus-Dieter Rust and the new UV-LED equipped P5, which is viewed as a key element in the company's long-term strategy