Telrol transitions to PureTone inks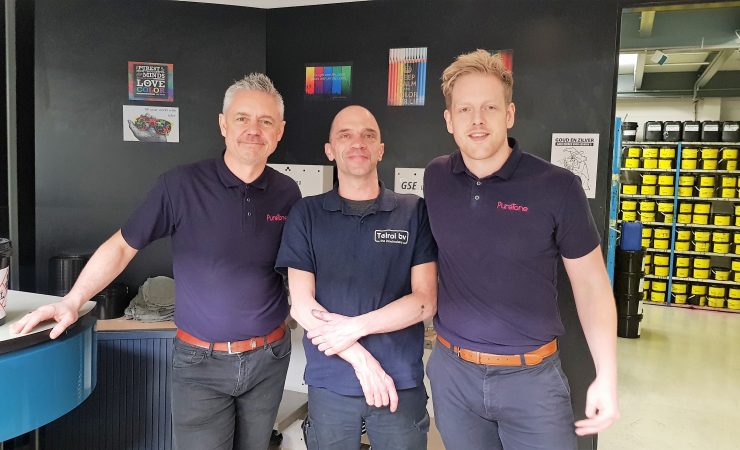 (L-R) Darren Gillespie, technical service manager, Pulse Roll Label Products, André Wemerman, colour lead, Telrol BV, Ben Howell, technical sales manager, Pulse Roll Label Products
Dutch printing and labelling company, Telrol has successfully transitioned to a new UV flexo ink system as part of a drive to become more sustainable. Provided by Pulse Roll Label Products, the PureTone ink system is also food packaging compliant.
The switch was carried out in less than one week in February, with full training and on-site technical support provided by Pulse. Telrol BV, which is part of the Hansol Group, has 22 printing presses and boasts one of the largest installations of MPS presses in Europe.
'I am delighted that we are now well on our journey to improve Telrol's capabilities and ecological standpoint over the next year and further ahead,' said chief operating officer Will Parker. 'Finding the right partners to help us achieve the highest print quality, whilst at the same time ensuring we safeguard our environment and build a sustainable future, is critical for us at Telrol.'
Next the Dutch printing company plans to move to Pulse Roll Label Products' other food packaging compliant UV flexo inks, varnishes and coatings as well as its PureAqua range of water-based flexo inks and varnishes.
'We would like to thank the team at Telrol for having the confidence in us and our products and helping to make this such a successful transfer,' said Ben Howell, technical sales manager at Pulse. 'As most label and package printers will know, changing ink supplier is not always an easy task, so to be able to changeover an entire ink system in less than one week is something we can all be very proud of.'