HB Label Print marks a first with new P4 press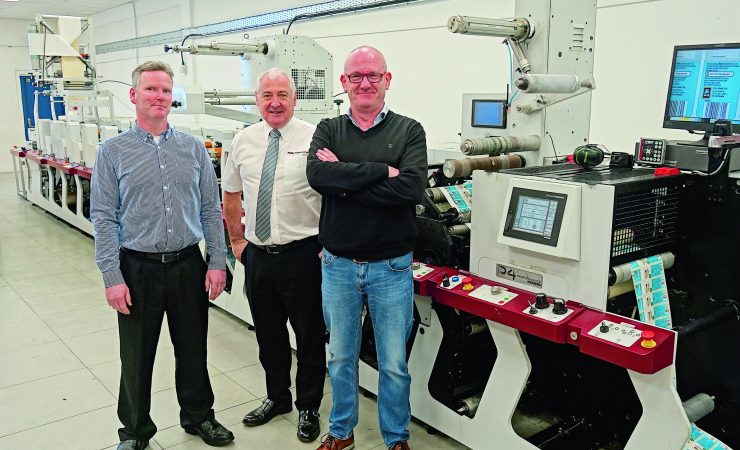 (L-R) Declan Boran, Paul Macdonald and Ian Bowden with HB Label Print's new P4
Dublin-based HB Label Print has purchased a new eight-colour P4 Performance Series press, the first Mark Andy in the British Isles to be installed with UV LED curing. 
The new press is the third Mark Andy purchased by the company since it was established in 2002 and is the first 330mm at the plant, the two existing Mark Andy 2200 lines both have the 254mm web width. Managing director Ian Bowden commented, 'We have always been a Mark Andy house because of the productivity of their presses and have also always employed UV curing, so the latest P4 was as an easy choice and gives us cutting-edge technology with the Mark Andy Pro-LED system fitted.'
General manager at HB, Declan Boran, added, 'The new press is already showing noticeable improvements to overall productivity, as well as attracting new work with its wider web and faster production speeds, with guaranteed 100% curing.' Fitted with cold foil, turn bars, and delam/relam facility, the P4 also has two die stations, the second of which is the QCDC unit.
HB Label Print has a turnover of just under €5 million and a staff of 16. The plant manufactures labels for the food and beverage, logistics and airline sectors, and currently sees a balance of 80:20 between paper and filmic substrates. 'We are very environmentally conscious here and are proud of our positive approach towards responsible packaging, which includes advising our clients on the best designs to minimise waste, especially of expensive and non-green material like foil. Careful design can maximise the effect and impact of ink, foil and other finishes, but also be less wasteful and therefore less harmful to the environment.'
HB has always been a Flint Group user, so the Pro-LED UV curing system that uses Flint inks was a good fit. Flint Group Packaging's regional manager for narrow web, Keith Redmond, said, 'There are still myths in the industry that LED inks and lacquers are not fully available and expensive to buy.  Although the inks are marginally more per kilo, the overall cost of running an LED system compared with a mercury lamp system is much lower and these savings vastly outweigh the slightly higher ink costs.'
The company was attracted to using UV LED because in addition to lower electricity bills, there is also better curing performance at higher speeds on lighter weight substrates, no press downtime due to lamp changes or lamp maintenance issues – not to mention the massively longer lamp life and an increase in green credentials because the LED does not generate ozone. 'With our Ekocure portfolio of conventional and low migration LED inks and varnishes, HB Label Print can do everything today in LED that it has done previously with conventional UV – but faster, cheaper, safer and cleaner,' he added.
Mr Boran confirmed this saying that 225m/min on the P4 was a regular occurrence at HB, with 100% guaranteed curing. 'We don't have to monitor the lamps for a drop-off in performance or have the problem of disposal when the time comes to replace them. LED offers a much more efficient and problem-free UV solution, with significant environmental benefits too.'