Nägele receives Kodak Flexcel NX plate certification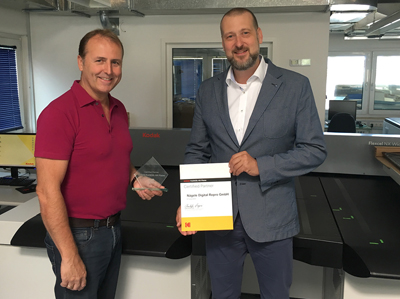 (L-R) Werner Rost, production manager at Nägele Digital Repro, is handed the Flexcel NX 'Certified Partner' seal and certificate by Sascha Paus, sales manager DACH, Flexo Packaging Division, Kodak
Based in south Germany, Nägele Digital Repro has successfully completed the Kodak certification programme for Flexcel NX plates.
Launched by Kodak five years ago, the certification programme requires companies to demonstrate that the plates they produce are consistently made to a standard global specification.
Nägele has been working with Flexcel NX Plate technology since 2010. The company operates two Kodak Flexcel NX Wide Systems (4260), whose imagers are equipped with the Hybrid Option and can thus also be used for offset printing plates.
The company currently supplies Flexcel NX plates, mostly 1.14 or 1.17mm thick, to about 60 packaging printers throughout southern Germany. In fact 90% of all photopolymer plates that leave the premises are Flexcel NX Plates.
Nägele originally achieved plate certification in 2015 and has now undergone the programme successfully a second time. 'We're a very experienced user of this technology, which means we can offer each customer an exact-fit solution whatever their requirements. It was therefore only logical that we should go for recertification,' Werner Rost, production manager, explained. 'The plate certification mark provides our customers – and us – with an assurance that our process meets a high, internationally recognised standard.'