Edale number seven for Kingfisher Labels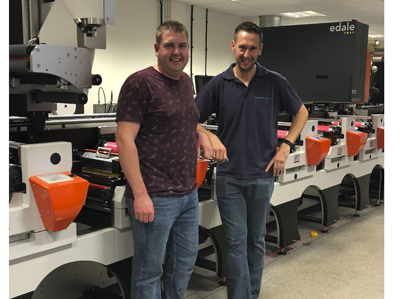 (L-R) Karl Jackson, production director and Stephen Kerley, production supervisor, Kingfisher Labels
Kingfisher Labels, based in North Bristol, has purchased an Edale FL3 flexo press taking its total number of Edale presses to seven.
The company installed its first Edale press in 2001. The latest installation is part of an ongoing investment strategy.
Andy Watts, sales director, said, 'The Edale FL3 press will support our growth plans and extend our capabilities. We can now produce a greater range of labels, particularly complex designs requiring a high number of colours. The press is also equipped with many quality control and time-saving features which will help us strengthen the quality and service levels we deliver to our customers.'
'When we trialled the FL3 at Edale it was clear to see this was the right choice, changing from unsupported film to label stock the machine was faultless,' added Karl Jackson, production director.  
The Edale FL3 is due to be installed in November this year.