Spanish label converter fits Martin Automatic to its Gallus presses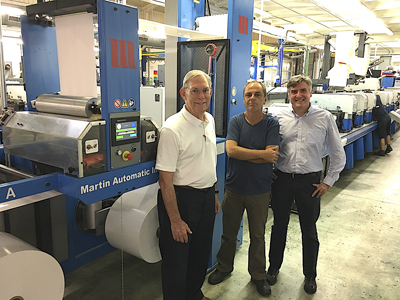 (L-R) Ed Pittman, Martin Automatic, with Ángel Gómez, production manager and Victor Abellaner, director general of Adhesivos del Segura
Adhesivos del Segura, located in Murcia, in Spain's south east corner, has invested in Martin Automatic roll handling technology.
The label converter has more than 16 printing machines and 12 cutting and finishing units, including digital technology. The company mainly supplies labels to the food industry as well as high volumes of blank labels for shipping purposes.
With a high level of demand, the company needed to increase productivity and press throughput. After detailed market research, the business decided to invest in Martin Automatic roll handling technology, and in 2015 installed the first of four MBS unwind/splicer machines, which have since been joined by another MBS and LRD transfer rewinder.
Victor Abellaner, general manager, commented, 'We like the fact that the splicers are not over-reliant on servos and electronics – it makes them easier and cheaper to maintain by our in-house technicians – but in reality, they have been a model of reliability.' 
The first four MBS splicers were all fitted to Gallus EM series presses: three on EM 340s and one on an EM 410. The latest MBS and first LRD have been fitted to the company's EMS 430. 
Label production at Adhesivos del Segura is still predominantly paper based but demand for film and foil products is rising quickly, strengthening the case for automation.