Esko opens new flexo facility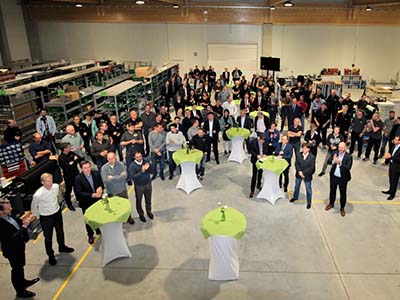 The official opening with staff on 9 November 2018
To continue the expansion of its flexo platemaking business, Esko has moved operations into a larger plant in Itzehoe, Germany. The new 4300sqm facility consolidates research, engineering, product development, testing and production under one roof. 
The new facility also features a customer experience centre for customers and industry partners. This is set up to demonstrate the Esko flexo platemaking eco-system, from design and pre-press, through colour management, flexo plate preparation, imaging and exposure, up to cutting plates ready for mounting on the printing press. Assembly of plate imaging devices CDI Crystal and CDI Spark, as well as the XPS Crystal systems will be done at the new plant.
'We have been extremely pleased with the entire process, from the laying of the first stone through to the move and start-up of production in this brand new facility,' said plant manager Holger Jacobsen. 'Everyone – from the architect and builder to all of our suppliers and staff – worked together to achieve a challenging schedule. It's a modern environment, a great workplace for our staff and a welcoming setting where we will host many visitors in the future.'
President Udo Panenka sees a strong future for Esko's flexo platemaking business and the Itzehoe plant. He commented, 'Itzehoe will continue to be the epicenter of everything flexo-related, from development to service delivery.
'We are well positioned to tap into the significant opportunities to simplify and automate the entire flexo platemaking process, from design to the finished plate ready to be mounted on the press, and we are pursuing those on behalf of our customers and the industry at large. We are extremely pleased with this important milestone, and we are looking forward to a bright and innovative flexo future!'