York Repro-graphic Group makes further investments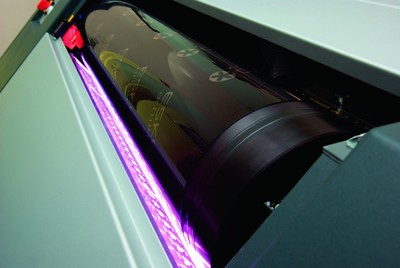 CDI with UV inline exposure
Despite the doom and gloom surrounding the tough global economic trading conditions, YRG Group Ltd, the York and Manchester based packaging repro specialist, has recently made further investments in leading edge flexographic platemaking systems.
The group has installed a Degraf Concept 501 EC plate processing system to complement its earlier investment in the UK's first CDI with UV inline exposure from Esko. The state of the art system can produce consistent high quality printing plates of up to 52 x 80 inches.
In addition, the company has also installed an Asahi AWP platemaking system. The system incorporates all of the latest environmental processing technologies and promises to deliver superb print characteristics due to its ability to process plates, which provide excellent ink transfer capabilities in solid areas whilst printing the finest screens and highlight dots. YRG already provides DuPont Fast plates, therefore the investment in these additional systems mean the company can offer printers an even wider variation of printing plate materials and processing systems.
These investments follow on the back of the recent acquisition of Eclipse Marketing Solutions, a specialist in digital mock up and sales sample production, as well as the expansion into Africa through joint ventures and the rapid development of YRG Solutions over the last two years.
Managing director, Mark Gration, commented, 'These investments emphasise our underlying confidence that we can continue the substantial growth YRG has experienced over the last few years, in virtually all sectors of the print and packaging industry, by providing clients with good service and excellent pre press technology.'
www.yrg-group.co.uk