SP Design installs Fujifilm Acuity LED 1600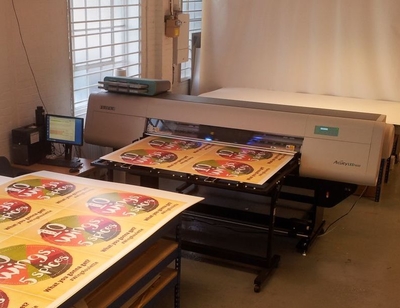 Specialist POP and prototype developer, SP Design, has installed a Fujifilm Acuity LED 1600 to improve printer performance and explore new business opportunities. 
The company originally focused on display design, but three years ago introduced a print capability into its business to increase its competitiveness. 
Simon Todd, managing director at, explained, 'We've developed an integrated process including design, print and delivery to become an end-to-end display solutions provider. Fujifilm's Acuity LED fits perfectly into our workflow and maximises our productivity.
'We used to print flexible materials and apply them to rigid substrates to create finished displays. However, we realised that we needed to improve our efficiency to meet increasingly time sensitive market needs.'
The company needed an inkjet device that would allow them to print directly onto rigid materials such as cardboard and corrugated plastic, as well as flexible media.
Mr Todd added, 'We evaluated the market proposition and Mayday Graphics helped us to identify the Acuity LED's unique attributes and its ability to meet our specific needs. We were keen to invest in the technology as we were aware that it guarantees low energy consumption along with the capability to handle a wide range of roll and rigid materials including heat-sensitive film and non-PVC media. The Acuity LED was the perfect solution for us.'
The company is hoping to make the most of the opportunity to apply six ink colours plus white or clear ink in a single pass to produce a premium high gloss finish. Mr Todd explained, 'The machine's ability to apply spot UV varnish was pivotal in our decision making process, as we knew that this feature would open up new creative opportunities. We are now able to produce slick POP solutions, highlighting selected areas with varnishing details.'