Nordic market leader invests in Vianord pre-press technology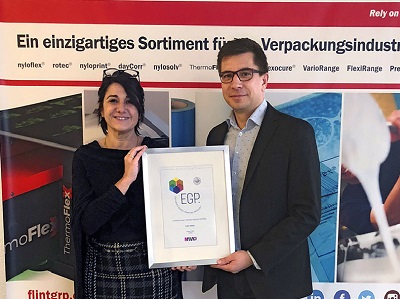 (L-R) Kai Lankinen, Mogens Rijs, Marko Valkamo and Pascal Miola with the new Vianord EVO line at the Marvaco plant in Ulvila, Finland
Marvaco, the largest supplier of flexo plates to the package printing industry in Scandinavia, has installed a Vianord EVO automated plate processing system at its plant in Ulvila, Finland.
The EVO 5 BP-I line, which features a washer, dryer, post exposure and plate stacker, 'was chosen for its high efficiency and output,' according to group managing director, Kai Lankinen, who added 'and, since we pride ourselves on innovation, we were proud to install what was the third machine in the world as the most effective processor from Vianord.'
Originally founded in 1984 in Finland, and as far back as 1914 in Sweden, Marvaco now employs 90 people and has an annual sales turnover of around €10.5 million. Mr Lankinen explained, 'We deliver high quality pre-press and flexo printing plates to printers and brand owners across the whole packaging sector. Our services also include also brand management, 3D modelling, DAM, and packaging design production.' To back up his claim for quality, Marvaco is internationally acknowledged as the most awarded packaging pre-press company in Scandinavia.
In addition to the new Vianord EVO Easy-to-Plate line, Marvaco has eight Esko CDIs, producing HD and Full HD flexo plates. It handles around 25,000 pieces of artwork each year and manufactures more than 22,000 sqm of polymer plates and sleeves for the flexible packaging, corrugated, and label markets, in addition to supplying repro to dry-offset and digital printers.
Evaluating the new EVO 5, Marko Valkamo, production director, stated, 'We really appreciate the integrated workflow it offers and the improved operator environment that its fully cased-in construction provides. As a complete production line it was a major investment for us, but we have been delighted with its performance and the professional support from the manufacturer.'
Looking ahead, Marvaco is keen to maintain its investment in the latest technology to ensure it stays at the forefront of development. The company plans to grow and expand its services in the Nordic Region and Scandinavia, and is also keen to move into new markets. 'We are looking to cooperate with pre-press companies, printing houses, and brand owners in other countries, so are keen to hear from anyone who has the passion to deliver the highest quality and a professional service that matches ours,' concluded Mr Lankinen.