Ultrachem revamps its offering for flexo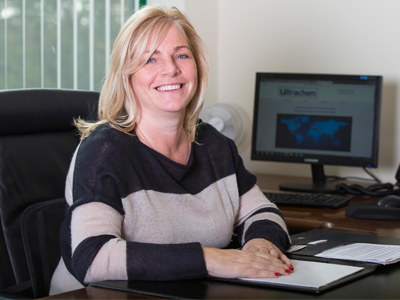 Jan Brinton, Director of Ultrachem
The company has reviewed and extended its entire flexo ink, coatings and washes range to cater for everything from label, bag, sack, cake, tissue and food packaging print.
Building upon the success of the UV Flexo Goldeneye ink range, Ultrachem has introduced the 'Color' branded range of high quality water-based flexo inks and coatings. In addition, Ultrachem has strengthened its portfolio of UV flexo varnishes and added UV fastbond adhesive as well as developing the PrimaFlex Solutions range of wash-ups, ultrasonic cleaners and additives. The faster moving items are featured in an A4 Flexo inks, coatings and wash guide which gives a comprehensive overview of the range.
 'The new additions to our portfolio will strengthen our offering in specialist growing markets,' said Jan Brinton, director of Ultrachem. 'Our ability to make bespoke products to overcome specific problems and production issues sets us apart from our competitors. Furthermore, we have a commitment to only use high quality raw materials and packaging.' 
The company is using Ecovent containers for all wash products. 'These containers are especially designed to empty smoothly and accurately without glugging of the liquid therefore avoiding dangerous splashing during discharge,' explained Ms Brinton.